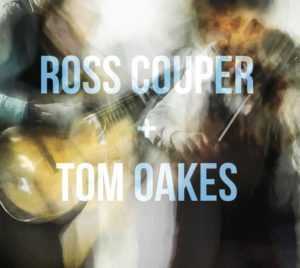 Congratulations to Ross Couper & Tom Oakes who have been nominated in Album of the Year sponsored by Birnam CD in the MG ALBA Scots Trad Music Awards 2017. Vote now!
We asked Pete Ord of Ross Couper & Tom Oakes the following questions.
Tell us about yourself
Hailing from polar ends of the UK, Ross Couper (Shetland) and Tom Oakes (Devon) have been dazzling audiences with their fiery, driving rhythms and shared passion for the infectious melodies and grooves of Celtic Music, for the best part of a decade. Their highly dynamic mixture of power and fragility delivered with warmth and humour leaves audiences exhilarated and entertained.
Ross's explosive fiddle playing lies at the heart of some of the biggest acts on the Scottish folk scene, previously part of Scots Traditional Music Award winning (Band Of The Year) Bodega, Ross currently plays with the mighty Peatbog Faeries.
Tom Oakes is a multi award winning guitarist and flautist who as well as being a founder member of the genre defying Auvo Quartet is also known for his work as a solo flautist, recently a member of the highly acclaimed Songs For The Voicless project with Bella Hady, Josienne Clarke and Ian Stephenson amongst others.
Why are you involved in Scottish music?
Its just the most exciting scene to be a part of, the tunes, the audiences , the sessions, everything about it really. For Ross its in the blood and for Tom it's the weather that keeps him here over his home country of Devon.
Any particular career highlights?
We've been playing together for nearly a decade and we have so many amazing gigs along the way it'd be impossible to single one out. We're just thrilled to have this album out there and even more thrilled that people are enjoying it!
What are your plans for the future?
We've got our WinterTrad annual weekend coming up in December which we're really excited about. We're currently planning a big 2018 with tours in England, in April, Scotland in September and then we're off to Switzerland and Germany, hoping we might fit Ireland in there too somewhere! Its going to be a busy one!
Read more about Ross Couper & Tom Oakes
http://www.rossandtom.com
Facebook: http://www.facebook.com/rossandtom
Twitter: http://www.twitter.com/rossandtom
If you would like to come along to the MG ALBA Scots Trad Music Awards in Paisley's Lagoon Centre call 0300 300 1210 or to buy online visit www.paisley2021.co.uk/events/the-mg-alba-scots-trad-music-awards. Tickets can also be purchased via Paisley Arts Centre. Bands performing on Saturday 2nd December include Elephant Sessions, The Shee Big Band, Siobhan Miller, Tidelines, Paisley Fèis, Snuffbox, The Seamus O'Sullivan Experience, Lori Watson, Jenna Reid and Harris Playfair, Songs of Bàrd Phàislig (featuring Gillebrìde MacIlleMhaoil, Sìneag MacIntyre, Màiri NicAonghais, Seonaidh MacIntyre, Ewan MacPherson, Mhairi Hall, Màiri Nic a Mhaoilein and more to be announced. There will also be a late night ceilidh after the Awards till 1am.