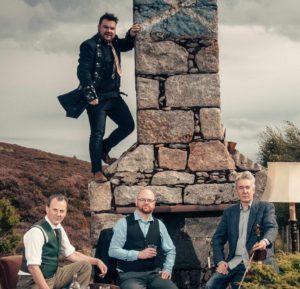 Congratulations to Old Blind Dogs who have been nominated in Album of the Year sponsored by Birnam CD in the MG ALBA Scots Trad Music Awards 2017. Vote now!
We asked Susan Whyte of Old Blind Dogs the following questions.
Tell us about yourself
Old Blind Dogs started working together in 1992 and have been gigging and recording steadily ever since, releasing our latest album Room with a View which is our 13th album, and celebrating 25 years of Old Blind Dogs in 2017.
Why are you involved in Scottish music?
Founder member Jonny Hardie returned to Aberdeen in the late 80's after studying at Manchester Royal Northern College of Music and quickly discovered a vibrant local music scene and The Old Blind Dogs were born. All the Old Blind Dogs are hugely committed to the power and history of Scottish music and its place in the contemporary Scottish music scene. Scottish music resonates with audiences globally, it's an exciting and vibrant place to be, alive with hugely talented musicians and we're proud to be part of it.
Any particular career highlights?
Playing The Blue Lamp Aberdeen or maybe the Carnegie Hall!
What are your plans for the future?
We have an extremely busy touring schedule in the immediate future, mainly USA and Germany with a couple of tours in the UK as well in 2018. We're also planning to start work on a new recording over the winter.
Read more about Old Blind Dogs
http://www.oldblinddogs.co.uk
Facebook: http://www.facebook.com/oldblinddogsmusic
Twitter: http://www.twitter.com/oldblinddogs
If you would like to come along to the MG ALBA Scots Trad Music Awards in Paisley's Lagoon Centre call 0300 300 1210 or to buy online visit www.paisley2021.co.uk/events/the-mg-alba-scots-trad-music-awards. Tickets can also be purchased via Paisley Arts Centre. Bands performing on Saturday 2nd December include Elephant Sessions, The Shee Big Band, Siobhan Miller, Tidelines, Paisley Fèis, Snuffbox, The Seamus O'Sullivan Experience, Lori Watson, Jenna Reid and Harris Playfair, Songs of Bàrd Phàislig (featuring Gillebrìde MacIlleMhaoil, Sìneag MacIntyre, Màiri NicAonghais, Seonaidh MacIntyre, Ewan MacPherson, Mhairi Hall, Màiri Nic a Mhaoilein and more to be announced. There will also be a late night ceilidh after the Awards till 1am.