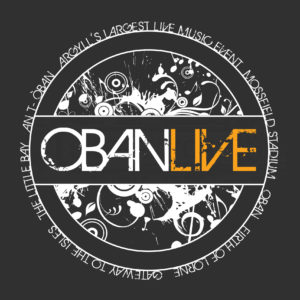 Congratulations to Oban Live who have been nominated in Event of the Year sponsored by VisitScotland in the MG ALBA Scots Trad Music Awards 2017. Vote now!
We asked Daniel Gillespie of Oban Live the following questions.
Tell us about yourself
OBAN LIVE was formed following the hugely successful 'Decade' event that celebrated 10 years of touring for current Live Act of Year winners, SKERRYVORE.
The event has entertained almost 8,000 attendees each year (7,770 in 2016, 7,837 in 2017) with a mix of traditional Scottish artists and international superstars such as KT Tunstall and Toploader. The event experience is also enhanced with Fringe events in the town, VIP packages, well-stocked bars, amazing food vendors and merchandise.
It is one massive cultural party in a truly authentic, welcoming Scottish location, famously known for its music, seafood, history & heritage, whisky and "gateway" to the Isles.
Why are you involved in Scottish music?
We are very passionate about promoting and celebrating Scottish music by welcoming people from all over the world to Oban Live. We have showcased both established and emerging Scottish artists to attendees from over 20 countries.
Any particular career highlights?
The support of this event has been a real highlight. We always dreamed of having a stadium style concert when we started Skerryvore so it was incredible to have 6000 people attend our 10th Anniversary – but even more incredible was the desire for it to continue and that ultimately was the reason Oban Live was created.
What are your plans for the future?
The long-term objective of Oban Live is to be part of a significant regeneration of the Mossfield Stadium and surrounding area that will help create a key community asset that will be a hub for all types of events and help provide a year round economic boost to the town.
Read more about Oban Live
http://obanlive.com
Facebook: http://www.facebook.com/obanlive
Twitter: http://www.twitter.com/obanlive
If you would like to come along to the MG ALBA Scots Trad Music Awards in Paisley's Lagoon Centre call 0300 300 1210 or to buy online visit www.paisley2021.co.uk/events/the-mg-alba-scots-trad-music-awards. Tickets can also be purchased via Paisley Arts Centre. Bands performing on Saturday 2nd December include Elephant Sessions, The Shee Big Band, Siobhan Miller, Tidelines, Paisley Fèis, Snuffbox, The Seamus O'Sullivan Experience, Lori Watson, Jenna Reid and Harris Playfair, Songs of Bàrd Phàislig (featuring Gillebrìde MacIlleMhaoil, Sìneag MacIntyre, Màiri NicAonghais, Seonaidh MacIntyre, Ewan MacPherson, Mhairi Hall, Màiri Nic a Mhaoilein and more to be announced. There will also be a late night ceilidh after the Awards till 1am.