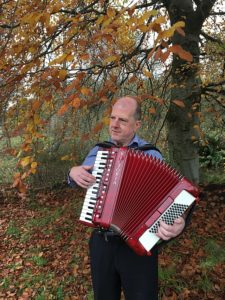 Congratulations to Keith Dickson who have been nominated in Music Tutor of the Year sponsored by Creative Scotland Youth Music Initiative in the MG ALBA Scots Trad Music Awards 2017. Vote now!
We asked Keith Dickson of Keith Dickson the following questions.
Tell us about yourself
I'm an instrumental tutor, teaching accordion and piano, living in Dolphinton, South Lanarkshire. I started teaching over 30 years ago and was appointed as Traditional Accordion Examiner in 2004 at the Royal Scottish Academy of Music and Drama (now the Royal Conservatoire of Scotland) for the Scottish Traditional Music Graded Exams. As well as offering individual private tuition I currently enjoy teaching several group projects including a YMI Accordion Project (teaching 37 x young accordionists) at Wallace Hall Primary School and Academy in Dumfries and Galloway, a Reels Band of talented musicians from The Royal Regimental Band of Scotland, the Piano Accordion Improvers Class for the popular Scots Music Group in Edinburgh and an accordion based youth group called KODA.
Why are you involved in Scottish music?
I was introduced to Scottish Music from an early age. There's some traditional musical history in my family as my great-great grandfather, James Dickson (1827 -1908), was well-known locally as a Scots Fiddler, and my Dad played the accordion in a Scottish Dance Band during the 1950's and 60's, performing at local village hall dances. While learning the accordion as a teenager I was encouraged to attend Biggar Accordion Club where I met other musicians and started playing in groups and bands. I went on to play accordion and piano in several Scottish Dance Bands and have featured with them on BBC Radio Scotland's Take the Floor. Having witnessed the enjoyable reaction of audiences to our Scottish Music both at home and abroad I have, as a teacher, actively encouraged my students whenever possible to become involved with this infectious genre of music.
Any particular career highlights?
I've had the pleasure of my students and groups being invited to provide entertainment at a wide range of events including a dinner at Holyrood Palace for The Duke and Duchess of Cornwall, the European Accordion Festival in Prague, the 20th T in the Park Festival and the 2009 Scots Trad Music Awards. However, the highlight of my teaching career is simply watching students getting enjoyment and satisfaction out of learning to play music.
What are your plans for the future?
Hopefully continue to teach, perform and compose music, inspiring and encouraging more people to become involved in music making.
Read more about Keith Dickson
http://www.kodamusic.com/
Facebook: https://en-gb.facebook.com/kodamusic/
Twitter:
If you would like to come along to the MG ALBA Scots Trad Music Awards in Paisley's Lagoon Centre call 0300 300 1210 or to buy online visit www.paisley2021.co.uk/events/the-mg-alba-scots-trad-music-awards. Tickets can also be purchased via Paisley Arts Centre. Bands performing on Saturday 2nd December include Elephant Sessions, The Shee Big Band, Siobhan Miller, Tidelines, Paisley Fèis, Snuffbox, The Seamus O'Sullivan Experience, Lori Watson, Jenna Reid and Harris Playfair, Songs of Bàrd Phàislig (featuring Gillebrìde MacIlleMhaoil, Sìneag MacIntyre, Màiri NicAonghais, Seonaidh MacIntyre, Ewan MacPherson, Mhairi Hall, Màiri Nic a Mhaoilein and more to be announced. There will also be a late night ceilidh after the Awards till 1am.