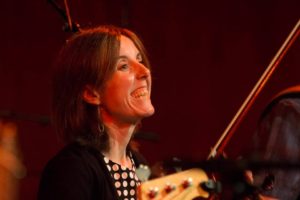 Congratulations to Jennifer Wrigley who have been nominated in Instrumentalist of the Year sponsored by Royal Scottish Country Dance Society in the MG ALBA Scots Trad Music Awards 2017. Vote now!
We asked Jennifer Wrigley of Jennifer Wrigley the following questions.
Tell us about yourself
I am a fiddle player from the Orkney Islands. For the past three decades my fiddle has taken me all round the world performing, recording, composing and teaching. I am perhaps best known as the fiddle playing half of The Wrigley Sisters. We began recording our first album age 13 and since then have recorded six duo albums, undertaken three world tours, visited forty seven countries (including over twenty trans-Atlantic trips) and appeared in many television and radio productions. My playing reflects the ages of musicianship passed down aurally from my heroes and learnt while growing up in Orkney. I am also influenced by the many people I have met along the way during my life spent on the road as a professional musician; a journey which included being based in Edinburgh for many years during the incredible traditional music scene of the 90s.
Why are you involved in Scottish music?
I remember being very young and sitting on my mums knee at a local concert where fiddles were being played and saying "I want to play the fiddle!" On our 8th birthday my twin sister Hazel and I were given a fiddle and guitar and that was the start of an amazing musical journey. I began "violin" lessons at primary school (my teacher was Dougie Shearer) but my real love was for traditional music which I heard being played in the local Hall and the homes of the people in the small rural parish I grew up in. There were many great traditional players in Deerness who inspired me hugely; music was everywhere and I remember getting hooked! I went on to become a member of the highly respected and locally significant Orkney Strathspey and Reel Society (formed in 1948) where I was lucky enough to be introduced to and learn from some of the finest fiddle players in Orkney at the time.
Any particular career highlights?
In 1996 I was awarded the BBC Young Tradition Award, the UK's premier accolade for emerging folk music talent; other young winners who kick started their careers were Simon Thoumire, Michael McGoldrick, Catriona Macdonald and Kathryn Roberts.
Over the years I am extremely lucky to of enjoyed many musical and education related initiatives and collaborations, several with internationally renowned artists such as Evelyn Glennie. I was also very privileged to perform in front of Yehudi Menuhin and Prince Charles at London's Barbican Centre in 1997 at an event celebrating the 25th Anniversary of the 'Live Music Now' initiative.
I am very fortunate to of spent a lifetime performing in some of the most prestigious venues and festivals alongside many of the finest traditional musicians in the world.
2004 marked a return to Orkney and along with my sister we created "The Reel" which has itself been nominated for two MG Alba Scots Traditional Music Awards. Situated right in the heart of Kirkwall next door to the historic and iconic St Magnus Cathedral The Reel is predominantly a multi-instrumental school but also encompasses a café/bar, music shop, concert venue and exhibition space. The Reel has been driven by the passion to generate interest in Orkney culture and heritage whilst supporting generations of artists who are tradition bearers including The Orkney Accordion and Fiddle Club (MG Alba Club of the Year 2015.) There have been many, many students and friends who have been involved in the Reel over the years who have gone on to become professional musicians.
Another highlight was in 2014 being invited to perform my specially composed piece for Orcadian Explorer Dr John Rae in Westminster Abbey at his commemoration.
Moving back to Orkney has allowed me to "give something back" and I am very happy to be the current Chairperson of the Orkney Traditional Music Project; a charity set up to teach and inspire young and old traditional players. The project was awarded an MG Alba Community Project of the Year 2008.
What are your plans for the future?
The immediate future sees another tune book, a seventh Wrigley Sisters album and more exciting collaborations – soon to be announced!
I want to continue to improve my playing, keep recording, performing, teaching and composing. Mostly though I am excited about the thought of all the amazing players and inspirational people I hope to meet, hear and perhaps collaborate with in the years to come!
Read more about Jennifer Wrigley
http://www.wrigleysisters.com
Facebook: http://www.facebook.com/wrigleysisters
Twitter: http://www.twitter.com/wrigleyandthereel
If you would like to come along to the MG ALBA Scots Trad Music Awards in Paisley's Lagoon Centre call 0300 300 1210 or to buy online visit www.paisley2021.co.uk/events/the-mg-alba-scots-trad-music-awards. Tickets can also be purchased via Paisley Arts Centre. Bands performing on Saturday 2nd December include Elephant Sessions, The Shee Big Band, Siobhan Miller, Tidelines, Paisley Fèis, Snuffbox, The Seamus O'Sullivan Experience, Lori Watson, Jenna Reid and Harris Playfair, Songs of Bàrd Phàislig (featuring Gillebrìde MacIlleMhaoil, Sìneag MacIntyre, Màiri NicAonghais, Seonaidh MacIntyre, Ewan MacPherson, Mhairi Hall, Màiri Nic a Mhaoilein and more to be announced. There will also be a late night ceilidh after the Awards till 1am.