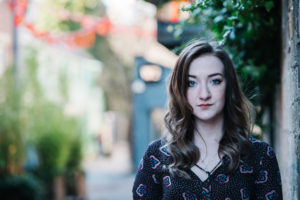 Congratulations to Iona Fyfe who have been nominated in Citty Finlayson Scots Singer of the Year sponsored by TMSA in the MG ALBA Scots Trad Music Awards 2017. Vote now!
We asked Iona Fyfe of Iona Fyfe the following questions.
Tell us about yourself
Iona Fyfe is a folksinger from Huntly in Aberdeenshire but now lives in Glasgow where she is in her third year of studying Traditional Music at The Royal Conservatoire of Scotland. With a strong interest in the history and stories behind her songs, Iona offers honest and informed interpretations of historical ballads and contemporary songs alike. With her trio, Iona has performed at festivals throughout the UK from Orkney Folk Festival to Sark Folk Festival, with an increasing number of shows scheduled in England. A sought after performer and song leader, Iona was a finalist in the BBC Radio Scotland Young Traditional Musician of the Year and the Birmingham Trad Fest 2017 Molloy Award.
Why are you involved in Scottish music?
Coming from Huntly, I feel as if I've always had a link to the style and repertoire of the North East. I started competing in Doric recitation competitions when I was five, and it was all a very natural transition into ballad singing. I had always been around Scottish music; ceilidh dancing, highland dancing, Doric and Burns poetry, and then folksong. I'm not sure of when the exact point was that I decided I wanted to pursue music as a profession, it just felt right!
Any particular career highlights?
It's all highlights! Playing at The Royal Albert Hall in London in 2016 opening the Music For Youth Proms or singing at The Barrowland Ballroom in 2014 with Aidan Moffat and Sheila Stewart.
What are your plans for the future?
Iona will launch her debut album "Away From My Window" on 30th January at The Strathclyde Suite, Glasgow Royal Concert Hall as part of Celtic Connections. This will feature an extended line-up of Charlie Grey, Tim Edey, Luc McNally, Ross Miller, Simon Gall (Salsa Celtica) and Charlie Stewart. In March, With her trio, Iona will launch the album with a 21 day UK tour, with a trip to Ontario to sing at the Fergus Tartan Day.
Read more about Iona Fyfe
https://ionafyfe.com/
Facebook: http://www.facebook.com/ionafyfesinger
Twitter: http://www.twitter.com/ionafyfe
If you would like to come along to the MG ALBA Scots Trad Music Awards in Paisley's Lagoon Centre call 0300 300 1210 or to buy online visit www.paisley2021.co.uk/events/the-mg-alba-scots-trad-music-awards. Tickets can also be purchased via Paisley Arts Centre. Bands performing on Saturday 2nd December include Elephant Sessions, The Shee Big Band, Siobhan Miller, Tidelines, Paisley Fèis, Snuffbox, The Seamus O'Sullivan Experience, Lori Watson, Jenna Reid and Harris Playfair, Songs of Bàrd Phàislig (featuring Gillebrìde MacIlleMhaoil, Sìneag MacIntyre, Màiri NicAonghais, Seonaidh MacIntyre, Ewan MacPherson, Mhairi Hall, Màiri Nic a Mhaoilein and more to be announced. There will also be a late night ceilidh after the Awards till 1am.