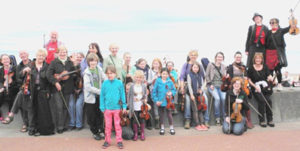 Congratulations to Fun Fiddle who have been nominated in Community Project of the Year sponsored by Gordon Duncan Memorial Trust in the MG ALBA Scots Trad Music Awards 2017. Vote now!
We asked Gica Loening of Fun Fiddle the following questions.
Tell us about yourself
Fun Fiddle started as a small informal group of adult learners in 2003. Led by Gica Loening and Jenny Gardner, and tutored by Rona Wilkie, Marit Falt, and Ros Gasson, we have become a strongly entrenched fiddle community with literally hundreds of players of all ages joining its ranks.
Alongside weekly classes, and one to one lessons for children and adults, Fun Fiddle has collaborated over the years with street bands, choirs, drummers, and most recently Brass Blast (www.oimusica.co.uk), contributing a vibrant energy to the East Edinburgh locality. Currently Fun Fiddlers are shaping up to form Edinburgh's largest ceilidh band, with approximately 60 fiddlers playing for dancing at Portobello's Wash House Benefit. They also play regularly for Edinburgh's new Syrian community and other fundraisers.
Fun Fiddle supports it's participants in:
Learning by ear
Playing together in a group
Building up a shared repertoire of tunes
Learning technique and traditional idiom
Performing at informal gatherings and community events
Take a look at Fun Fiddle on Youtube:
The Portobello Music Train
St Andrew's Night ceilidh
Porty Prom 2013
Why are you involved in Scottish music?
Fun Fiddle is rooted in local and Scottish culture, which we value highly, believing in the importance of celebrating, promoting, and furthering the Scottish tradition for all ages to connect with. Through international connections brought by our tutors and some of our participants, we also enjoy and play Swedish, American, Eastern European, and even a Japanese tune, learning about the similarities and uniqueness of other traditional cultures alongside Scottish.
Any particular career highlights?
Some of our core participants joined the project 14 years ago, some of whom have experienced major challenges in their lives, and the experience for them has been literally lifechanging. It has been a highlight knowing that Fun Fiddle has offered something so crucial to wellbeing.
Our large scale events and collaborations such as fiddle promenades and mass ceilidhs have been a huge success with players of all levels playing together and a sense of collective musicmaking from beginners to advanced. Easy harmonies and simple lines have made all trad tunes accessible no matter what the level of the player.
Organising fiddle promenades. led by a street band, along the length of Portobello Beach, for everyone to join in with, musicians and non musicians alike.
Playing for Syrian refugees , recently arrived in Edinburgh. They loved learning Scottish dances.
Witnessing young players develop over the years, from beginner stage to competent young musicians, who now hold trad music and fiddle in their hearts.
What are your plans for the future?
While the turnover of participants changes and grows over the years we have realised the benefit of growing organically, finding collaborations and connections s they arise, and keeping rooted in community. Our plans for the next year include a new collaboration with Brass Blast , and specially arranged street band and fiddle parts, to take place outdoors in East Edinburgh. Our young people will continue to be the ceilidh band for the local school's Burns event, and we will connect with Edinburgh's Tradfest 2018. We also hope to open out to include family workshops.
We will continue to offer a space for all levels to play together. In a world of austerity and funding cuts, we have found a way of sustaining and are optimistic about continuing to do so.
Read more about Fun Fiddle
http://www.funfiddle.co.uk
Facebook: https://www.facebook.com/Fun-Fiddle-825125694193324/?ref=bookmarks
Twitter: http://www.twitter.com/
If you would like to come along to the MG ALBA Scots Trad Music Awards in Paisley's Lagoon Centre call 0300 300 1210 or to buy online visit www.paisley2021.co.uk/events/the-mg-alba-scots-trad-music-awards. Tickets can also be purchased via Paisley Arts Centre. Bands performing on Saturday 2nd December include Elephant Sessions, The Shee Big Band, Siobhan Miller, Tidelines, Paisley Fèis, Snuffbox, The Seamus O'Sullivan Experience, Lori Watson, Jenna Reid and Harris Playfair, Songs of Bàrd Phàislig (featuring Gillebrìde MacIlleMhaoil, Sìneag MacIntyre, Màiri NicAonghais, Seonaidh MacIntyre, Ewan MacPherson, Mhairi Hall, Màiri Nic a Mhaoilein and more to be announced. There will also be a late night ceilidh after the Awards till 1am.