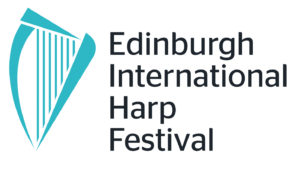 Congratulations to Edinburgh International Harp Festival who have been nominated in Event of the Year sponsored by VisitScotland in the MG ALBA Scots Trad Music Awards 2017. Vote now!
We asked Rachel Hair of Edinburgh International Harp Festival the following questions.
Tell us about yourself
The Edinburgh international Harp Festival is a 5 day Springtime celebration of all things harp.
With Scotland's own clarsach at its heart, the Festival is run by the Clarsach Society and attracts hundreds of participants and performers from throughout the world, to the stunning surroundings of Merchiston Castle School in Edinburgh.
Our annual concert line-up of internationally-renowned harpists alongside the cream of Scottish harping talent, combined with our ever growing education programme (60 courses and workshops every year) and open sessions makes us not only one of the world's top harp festivals, but the most welcoming, inclusive and the friendliest!
Why are you involved in Scottish music?
We are about to celebrate our 37th year and the clarsach (Scottish harp) is at the heart of our Festival. We are proud to showcase the best in Scottish harp music, providing the opportunity for all to learn about the music of Scotland, whether it be at a concert, course or featuring our instrument in all its forms from the historic wire strung harp to the most modern clarsachs of today.
Any particular career highlights?
12 years ago we "plucked" our way into the Guinness World Record book for the world's largest harp ensemble! 201 harpists assembled and played (and tuned…eek!) some 6,800 strings as part of our 25th Anniversary "Host of Harps" concert.
Our "parents", the Clarsach Society, were recently awarded the Hands up for Trad Business Limelight award. The Clarsach Society was founded in 1931 to help promote the clarsach and have it recognised as an important part of Scottish culture . We're incredibly proud to be part of this wonderful organisation and the work that they do.
What are your plans for the future?
We're currently finalising our 2018 festival. Expect a fine array of harping talent, newly composed music, a stellar selection of courses and workshops, a special event with children from all over Scotland taking part and even the chance to play in a concert yourself!
Read more about Edinburgh International Harp Festival
http://www.harpfestival.co.uk
Facebook: http://www.facebook.com/clarsachsociety/
Twitter: http://www.twitter.com/edinharpfest
If you would like to come along to the MG ALBA Scots Trad Music Awards in Paisley's Lagoon Centre call 0300 300 1210 or to buy online visit www.paisley2021.co.uk/events/the-mg-alba-scots-trad-music-awards. Tickets can also be purchased via Paisley Arts Centre. Bands performing on Saturday 2nd December include Elephant Sessions, The Shee Big Band, Siobhan Miller, Tidelines, Paisley Fèis, Snuffbox, The Seamus O'Sullivan Experience, Lori Watson, Jenna Reid and Harris Playfair, Songs of Bàrd Phàislig (featuring Gillebrìde MacIlleMhaoil, Sìneag MacIntyre, Màiri NicAonghais, Seonaidh MacIntyre, Ewan MacPherson, Mhairi Hall, Màiri Nic a Mhaoilein and more to be announced. There will also be a late night ceilidh after the Awards till 1am.