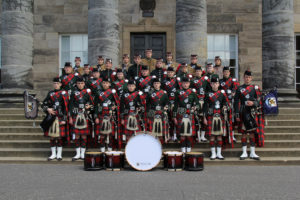 Congratulations to Dollar Academy Pipe Band who have been nominated in Pipe band of the Year sponsored by The Glenturret Single Malt Whisky in the MG ALBA Scots Trad Music Awards 2017. Vote now!
We asked Craig Stewart of Dollar Academy Pipe Band the following questions.
Tell us about yourself
We teach just over 200 pupils piping and drumming with 120 competing and the remaining progressing through practice chanter/sticks and pad before moving on to pipes and drums. We practise most mornings, lunchtimes and run two evening sessions each week. In the summer, we have engagements most weekends. Competitions and events take us across the UK and overseas, and we are very active within the local community. This year, we have enjoyed a fantastic season and currently hold all five RSPBA majors.
Why are you involved in Scottish music?
The Pipe Band has long been a big part of life at Dollar – records show that the first piping lessons started in 1908 under Pipe Major Beattie, with the first public appearance of the Band in 1914. Nowadays, pupils start piping and drumming lessons from as young as seven, and most continue throughout their school life. Through the support of FPs and the Wight Prize, soloists are supported and encouraged to travel far and wide, meeting new friends and competing in different locations, Canada, USA and Australia being distances furthest travelled.
Any particular career highlights?
Since 2010 we have collected 21 'Majors'. In the last seven years we have won four World titles against the best bands in an extremely competitive grade where the standard of playing is particularly high. Out with the competition circuit, leading the annual Dollar Gala parade and performing for charities such as Strathcarron Hospice and the Bill McLaren Trust are all very special moments for players.
What are your plans for the future?
The Pipe Band will be central to the school's 200th anniversary in 2018 and beyond. As part of that celebration we hope to integrate traditional Highland dancing as well as Scottish Country Dancing, giving pupils the opportunity to learn new and enjoyable skills.
Read more about Dollar Academy Pipe Band
http://www.dollaracademy.org.uk/dollar-academy-pipe-band-shortlisted-for-music-award
Facebook: http://www.facebook.com/
Twitter: http://www.twitter.com/
If you would like to come along to the MG ALBA Scots Trad Music Awards in Paisley's Lagoon Centre call 0300 300 1210 or to buy online visit www.paisley2021.co.uk/events/the-mg-alba-scots-trad-music-awards. Tickets can also be purchased via Paisley Arts Centre. Bands performing on Saturday 2nd December include Elephant Sessions, The Shee Big Band, Siobhan Miller, Tidelines, Paisley Fèis, Snuffbox, The Seamus O'Sullivan Experience, Lori Watson, Jenna Reid and Harris Playfair, Songs of Bàrd Phàislig (featuring Gillebrìde MacIlleMhaoil, Sìneag MacIntyre, Màiri NicAonghais, Seonaidh MacIntyre, Ewan MacPherson, Mhairi Hall, Màiri Nic a Mhaoilein and more to be announced. There will also be a late night ceilidh after the Awards till 1am.