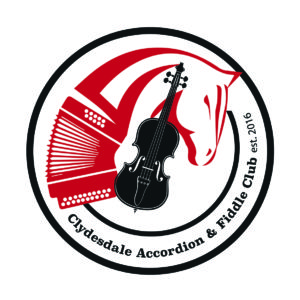 Congratulations to Clydesdale Accordion & Fiddle Club who have been nominated in Club of the Year sponsored by Trac Scotland in the MG ALBA Scots Trad Music Awards 2017. Vote now!
We asked Iain Cathcart of Clydesdale Accordion & Fiddle Club the following questions.
Tell us about yourself
Our aim is to provide a platform for young, and not so young, players to continue the legacy of great Scottish traditional music in the Clydesdale are whilst retaining a local focus and tight links with other organisations and businesses in the Lanark area.
Why are you involved in Scottish music?
To foster the enjoyment and enhancement of traditional Scottish music in the Clydesdale area in a relaxed environment, encouraging players both young and old.
Any particular career highlights?
We are a relatively new organisation and being nominated for a Trad Award is a huge highlight to us.
What are your plans for the future?
The intention of the Clydesdale A&F Club is to continue to provide the very best of artists for club visitors and players alike throughout the season.
We want to put Lanark back on the map and make the Clydesdale Accordion & Fiddle Club one of the most sought after platforms to perform on in the Scottish music scene.
Read more about Clydesdale Accordion & Fiddle Club

Facebook: http://www.facebook.com/clydesdaleclub
Twitter: http://www.twitter.com/
If you would like to come along to the MG ALBA Scots Trad Music Awards in Paisley's Lagoon Centre call 0300 300 1210 or to buy online visit www.paisley2021.co.uk/events/the-mg-alba-scots-trad-music-awards. Tickets can also be purchased via Paisley Arts Centre. Bands performing on Saturday 2nd December include Elephant Sessions, The Shee Big Band, Siobhan Miller, Tidelines, Paisley Fèis, Snuffbox, The Seamus O'Sullivan Experience, Lori Watson, Jenna Reid and Harris Playfair, Songs of Bàrd Phàislig (featuring Gillebrìde MacIlleMhaoil, Sìneag MacIntyre, Màiri NicAonghais, Seonaidh MacIntyre, Ewan MacPherson, Mhairi Hall, Màiri Nic a Mhaoilein and more to be announced. There will also be a late night ceilidh after the Awards till 1am.