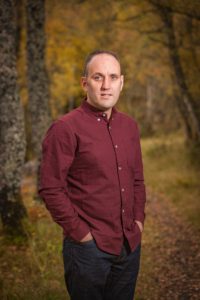 Congratulations to Calum Alex Macmillan who have been nominated in Gaelic singer of the Year sponsored by Macmeanmna in the MG ALBA Scots Trad Music Awards 2017. Vote now!
We asked Calum Macmillan of Calum Alex Macmillan the following questions.
Tell us about yourself
Biog available at – www.calumalexmacmillan.co.uk/calum-alex
I was born and brought up in Point, in the Isle of Lewis. Gaelic song and traditional music and the Gaelic Arts have always been a part of my life. My father, John 'Seonaidh Beag' Macmillan is a well known Gaelic singer and was part of the seminal Gaelic folk group 'The Lochies' and my mother was heavily involved in community Gaelic drama.
I grew up singing at concerts and ceilidhs and taking part in local mods and National mods by the time I got to secondary school. I was fortunate, whilst in primary school, to start chanter lessons with P/M Iain Morrison who has also been a massive influence on my musical career.
I competed at the Royal National Mods as an adult and was fortunate enough to win both Gold Medals by the age of 20. I recorded my first solo album when I was 21 and shortly after this I was asked to join Dàimh, and had six fantastic years as part of the band, recording two albums and playing across Europe.
As I have a young family and a full-time job I wasn't able to travel so much so there was a couple of years where I didn't perform so much. This gave me time to plan and research for a second solo album. I was delighted to be able record 'Till' (Return) during 2016 and it was released earlier in 2017.
I have lived in Inverness now for 11 years and I am married to Angela and we have two young children, Finlay (5) and ALyth (2). I am lucky enough to work for Fèisean nan Gàidheal as Development Manager, where I am involved in a wide range of Gaelic Arts, language and cultural projects.
Why are you involved in Scottish music?
I love it. It's always been a part of who I am and I can't imagine not been involved with it.
I made my first performance alongside my father when I was 7 years old at a Senior Citizens Christmas dinner in our local community and I suppose I got the bug then. I grew up in a community where I was surrounded by a host of fantastic Gaelic singers and traditional musicians and it was a great privilege to share a stage with them and I learned a great deal during this time. They inspired me and encouraged me greatly and I have always been grateful for that.
I am passionate about Gaelic song and traditional music and sharing it.
Any particular career highlights?
There have been many highlights and it's difficult to choose one, so I will choose two.
My father and I were invited to Celtic Colours in Cape Breton in 2008 and singing alongside him as an adult, to an international audience was just fantastic and something i'll never forget.
My more recent highlights would be releasing Till, it was a great experience working alongside Donald Shaw who produced the album and a host of fantastic musicians. Having a Lewis launch night as part of the Hebridean Celtic Festival was the icing on the cake.
What are your plans for the future?
After performing at HebCelt 2017 I had a little mishap when playing with my children in my mum and dad's back garden. A failed running long jump landed me in hospital with a badly broken ankle so I have spent the last few months laid up and recovering. Missing out on Lorient 2017 certainly was a sore one.
I'm back on my feet now though and looking forward to 2018 and putting together a tour to promote Till. So hopefully plenty singing and tunes to be had, and no more long jumps.
Read more about Calum Alex Macmillan
http://www.calumalexmacmillan.co.uk
Facebook: http://www.facebook.com/calumalexmacmillan
Twitter: https://www.twitter.com/calumailig
If you would like to come along to the MG ALBA Scots Trad Music Awards in Paisley's Lagoon Centre call 0300 300 1210 or to buy online visit www.paisley2021.co.uk/events/the-mg-alba-scots-trad-music-awards. Tickets can also be purchased via Paisley Arts Centre. Bands performing on Saturday 2nd December include Elephant Sessions, The Shee Big Band, Siobhan Miller, Tidelines, Paisley Fèis, Snuffbox, The Seamus O'Sullivan Experience, Lori Watson, Jenna Reid and Harris Playfair, Songs of Bàrd Phàislig (featuring Gillebrìde MacIlleMhaoil, Sìneag MacIntyre, Màiri NicAonghais, Seonaidh MacIntyre, Ewan MacPherson, Mhairi Hall, Màiri Nic a Mhaoilein and more to be announced. There will also be a late night ceilidh after the Awards till 1am.