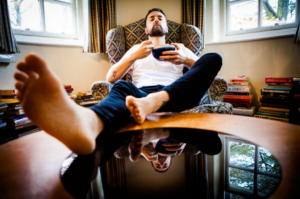 Congratulations to Blue Rose Code who have been nominated in Citty Finlayson Scots Singer of the Year sponsored by TMSA in the MG ALBA Scots Trad Music Awards 2017. Vote now!
We asked Ross Wilson of Blue Rose Code the following questions.
Tell us about yourself
Blue Rose Code, aka acclaimed singer-songwriter Ross Wilson, releases The Water Of Leith, his first album for Navigator Records on October 27. A nomad both geographically and musically, Ross writes from the heart eschewing any specific genre and the twelve new songs on The Water Of Leith, addressing themes of love, loss, travel, home, accepting the past and embracing the future, are painted with colours of folk, jazz, soul and pop; an eclecticism that has become a hallmark of Blue Rose Code and has seen him compared to John Martyn, Van Morrison and Tom Waits.
Why are you involved in Scottish music?
As Norman Maccaig once said when questioned why he wrote poetry, "It's not a choice, it's like when you're hungry you have a sandwich". The longer I was away, the more I could appreciate what it meant to be Scottish, ever-renewing, outward facing, compassionate and inclusive. Having returned home to write and record my homecoming album, 'The Water Of Leith', I've never felt more contented, more inspired by the land and the people.
Any particular career highlights?
Working with the likes of Julie Fowlis and Kathleen McInnes on this record, Danny Thomson and Ewan McGregor on the last, the McCrary Sisters, all of the extraordinary musicians from Scotland's world class talent centre, I've been blessed and privileged by their contribution.
What are your plans for the future?
My plan for the future is to continue to do the next-right-thing.
Read more about Blue Rose Code
https://bluerosecode.com/
Facebook: https://www.facebook.com/bluerosecode
Twitter: https://twitter.com/BlueRoseCode
If you would like to come along to the MG ALBA Scots Trad Music Awards in Paisley's Lagoon Centre call 0300 300 1210 or to buy online visit www.paisley2021.co.uk/events/the-mg-alba-scots-trad-music-awards. Tickets can also be purchased via Paisley Arts Centre. Bands performing on Saturday 2nd December include Elephant Sessions, The Shee Big Band, Siobhan Miller, Tidelines, Paisley Fèis, Snuffbox, The Seamus O'Sullivan Experience, Lori Watson, Jenna Reid and Harris Playfair, Songs of Bàrd Phàislig (featuring Gillebrìde MacIlleMhaoil, Sìneag MacIntyre, Màiri NicAonghais, Seonaidh MacIntyre, Ewan MacPherson, Mhairi Hall, Màiri Nic a Mhaoilein and more to be announced. There will also be a late night ceilidh after the Awards till 1am.