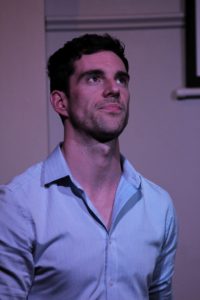 Congratulations to Alasdair MacIlleBhàin who have been nominated in Gaelic singer of the Year sponsored by Macmeanmna in the MG ALBA Scots Trad Music Awards 2017. Vote now!
We asked Alasdair MacIlleBhàin of Alasdair MacIlleBhàin the following questions.
Tell us about yourself
Dr. Alasdair C. Whyte is a Gaelic singer and songwriter from the Inner Hebridean island of Mull. He has recorded a solo album ('Las', 2010) and, more recently, an album with WHɎTE ('Fairich', 2016), the product of an ongoing collaboration with composer and musician Ross Whyte. Both albums feature traditional Gaelic songs and original Gaelic songs composed by Alasdair. Alasdair has also recorded with Struileag/Shore to Shore ('Children of the Smoke', 2014) and Niteworks ('NW', 2015). He was awarded a Ph.D. in Celtic and Gaelic by the University of Glasgow in 2017.
Why are you involved in Scottish music?
I was fortunate enough to be brought up within a family of Gaelic singers and traditional musicians and to have been educated in Celtic and Gaelic at the University of Glasgow. Song and music will be lifelong passions.
Any particular career highlights?
The An Comunn Gàidhealach Gold Medal at the Royal National Mòd in 2006.
Winning the Hands up For Trad/Creative Scotland Nòs Ùr 2017 songwriting competition with 'Cionran', an original Gaelic song composed by myself and Ross Whyte (WHɎTE).
What are your plans for the future?
More recording and performing with WHɎTE.
Writing more original Gaelic songs.
Continuing to learn about our cultural heritage, particularly that of my native area, and promoting it wherever I can.
Read more about Alasdair MacIlleBhàin
https://www.whytenoise.co.uk/
Facebook: https://www.facebook.com/whytetheband/
Twitter: https://twitter.com/whytetheband
If you would like to come along to the MG ALBA Scots Trad Music Awards in Paisley's Lagoon Centre call 0300 300 1210 or to buy online visit www.paisley2021.co.uk/events/the-mg-alba-scots-trad-music-awards. Tickets can also be purchased via Paisley Arts Centre. Bands performing on Saturday 2nd December include Elephant Sessions, The Shee Big Band, Siobhan Miller, Tidelines, Paisley Fèis, Snuffbox, The Seamus O'Sullivan Experience, Lori Watson, Jenna Reid and Harris Playfair, Songs of Bàrd Phàislig (featuring Gillebrìde MacIlleMhaoil, Sìneag MacIntyre, Màiri NicAonghais, Seonaidh MacIntyre, Ewan MacPherson, Mhairi Hall, Màiri Nic a Mhaoilein and more to be announced. There will also be a late night ceilidh after the Awards till 1am.