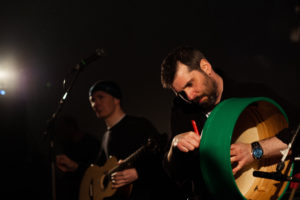 Congratulations to Dave Martin who have been nominated in Music Tutor of the Year sponsored by Creative Scotland Youth Music Initiative in the MG ALBA Scots Trad Music Awards 2017. Vote now!
We asked Dave Martin of Dave Martin the following questions.
Tell us about yourself
I have been involved in music for a long time and for me it's about connecting with people, exploring new ideas, creating opportunities and pushing my own boundaries in what I do, regularly taking myself out my comfort zone. I am a percussionist and electronic musician and also dabble with the ukelele.
I work with musicians, visual artists, in theatre, in film and dancers but I very much love teaching and work hard at being able to deliver engaging, exciting, fun and inspirational sessions with children, young people and adults, in schools and communities through out the country.
I love connecting people with our culture and in understanding the global connection and influence we have and have had which has also shaped our own cultural identity.
I am passionate about pulling people into the traditional world who have had no previous interest in the music, traditions, dances etc. Through this I co created with the National Theatre of Scotland The Big Fat Electric Ceilidh which mixes club and ceilidh culture and which was designed to give people an experience of the dances and vibe who have never been to a ceilidh or have ever been interested in going to a ceilidh before.
Why are you involved in Scottish music?
I am involved in the Scottish music scene because I love it and need to be. I love playing with Scottish musicians who I feel are some of the best in the world, it's an absolute joy and privilege.
I was brought up with traditional music and feel very connected to it.
It makes my heart and soul feel good.
I need to be involved in it in whatever shape or form.
Any particular career highlights?
Co Creating the Big Fat electric Ceilidh with the National Theatre of Scotland.
Creating the music and sound design for a number of Theatre Productions.
Spending a month in Egypt creating music for a Scottish/Egyptian production.
Working in Sierra Leone and creating a Selone/Scottish fusion.
Making some amazing friends through being involved in Scottish Music.
What are your plans for the future?
To keep trying out new things and to keep developing what I do.
To find new ways to engage people in education and to work on more cross cultural
projects.
Read more about Dave Martin
https://www.bigfatelectric.co.uk/bfec
Facebook: https://www.facebook.com/BigFatElectricCeilidh/
Twitter: http://www.twitter.com/
If you would like to come along to the MG ALBA Scots Trad Music Awards in Paisley's Lagoon Centre call 0300 300 1210 or to buy online visit www.paisley2021.co.uk/events/the-mg-alba-scots-trad-music-awards. Tickets can also be purchased via Paisley Arts Centre. Bands performing on Saturday 2nd December include Elephant Sessions, The Shee Big Band, Siobhan Miller, Tidelines, Paisley Fèis, Snuffbox, The Seamus O'Sullivan Experience, Lori Watson, Jenna Reid and Harris Playfair, Songs of Bàrd Phàislig (featuring Gillebrìde MacIlleMhaoil, Sìneag MacIntyre, Màiri NicAonghais, Seonaidh MacIntyre, Ewan MacPherson, Mhairi Hall, Màiri Nic a Mhaoilein and more to be announced. There will also be a late night ceilidh after the Awards till 1am.