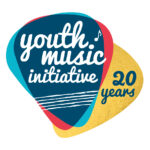 Creative Scotland's Youth Music Initiative are sponsoring Music Tutor of the Year at the MG ALBA Scots Trad Music Awards 2022. The awards will be held in Dundee's Caird Hall on Sunday 4th December 2022 and we would love to see you there! You can buy a ticket here handsup.link/tradawardstickets.
20 years of the Youth Music Initiative!
The Youth Music Initiative: Sponsor of the YMI Tutor of the Year Award 2022
This year both the MG ALBA Scots Trad Music Awards and the Youth Music Initiative (YMI) are marking their 20th anniversaries which creates even more reason to celebrate #YMusicMatters!
For the 14th consecutive year, we're delighted to be supporting the YMI Tutor of the Year Award which recognises the ongoing dedication and enthusiasm of music tutors who continue to deliver engaging, joyful, accessible, and meaningful musical experiences for children and young people across Scotland.
The Youth Music Initiative is a Scottish Government music education programme with a vision to put music at the heart of children and young people's lives and learning reaching over 362,483 participants each year.
The YMI supports activity in each of Scotland's 32 local authorities, allowing children and young people to take the first steps in their musical journeys through an eclectic range of inclusive music making opportunities which develop both individual and collaborative musical skills, sparking creativity and increased self-confidence.
Across the country, extra-curricular activities are delivered in everything from village halls to prisons and from forests to festivals, covering all musical genres and age groups. Encompassing group tuition, singing workshops, performance opportunities and digital music making, these projects offer lots of different ways to make music, bring people together and create safe spaces for social interaction, building stronger communities.
As part of our 20th anniversary, we've been celebrating the programmes participants, paying tribute to those who make it all happen as well as raising awareness of the value of music making to tell everyone #YMusicMatters.
With ongoing support from the Scottish Government over 20 years, the YMI has become an essential part of Scotland's rich music ecology creating crucial employment opportunities for freelance musicians and organisations supporting over 1,182 jobs. A significant percentage of the YMI budget each year goes directly on staffing costs which supports musicians' professional careers. In a recent survey of Highland YMI tutors undertaken by Feisean nan Gaidheal, '50% stated that YMI work made up more than a quarter of their annual income.' For some, the reliance was even greater with YMI accounting for more than half their yearly salary. In addition, '67% cited YMI work as having had an impact on allowing them to remain in – or choose – the Highlands as home.'
The YMI Tutor of the Year Award is an opportunity for all of us to celebrate the tutors that work tirelessly and passionately across Scotland to engage young people in traditional music making. By doing so, they are supporting young people to connect with their heritage, experience the joy of a ceilidh and the friendships that can be made by being part of a trad band. They are keeping Scottish culture alive by nurturing a new generation of artists and welcoming them into the thriving Scottish trad scene.
Congratulations to all the tutors who have made it to the shortlist. We look forward to celebrating with the winner on the night!
To learn more about the Youth Music Initiative at Youth Music Initiative | Creative Scotland. Follow us on Twitter, Facebook and Instagram.
Find out more about Creative Scotland's Youth Music Initiative at https://www.creativescotland.com/what-we-do/major-projects/creative-learning-and-young-people/youth-music-initiative.
Find out more about MG ALBA Scots Trad Music Awards at www.scotstradmusicawards.com. If you would like to be a sponsor you can contact us here.