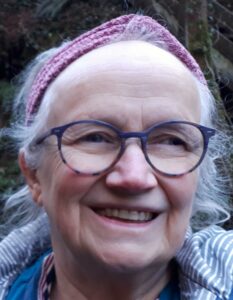 Weel duin tae Irene McFarlane wha hae bin nominatit in Scots Bairns' Book o the Year sponsored by Scottish Government in the Scots Language Awards. Vote now!
We askit Irene McFarlane o Irene McFarlane thae speirins. Vote now!
Tell us aboot yersel or yer ootfit.
A Kinross-shire fairmer's dochter, I still bide nae mair nor twa fields frae whaur I wiz brocht up. I stertit teachin English in Finland afore gettin yokit at Perth High Skuil and Strathallan. English first, then warkin wi bairns wi dyslexia. Noo I wark pairt time, learnin bairns in speech and drama. Scots poetry is a hobby. I'm aye gey thrang at Burns Supper time – speakin, recitin, singin. At Perform in Perth in Merch, whaur I sang twa Burns poems, I won the trophy fir the best singer in the hale festival!
Whit wis it got ye involvit wi the Scots leid?
The Scots lied wiz aa aroon me in ma bairnheid. Efter university I jined the Scots Language Society and wiz National Secretar fir a pucklie year. Alang wi tradeetional music singer and scholar, Shelia Douglas, we foondit the Perth Brainch o the SLS. George Philp o Scotsoun presentit a tassie tae The Perthshire (Musical) Competition Festival for bairns tae recite poems be Perth's William Soutar. I pit some bairns in fir it. It's mair nor 40 year sinsyne and I've entered hunnerts o bairns. I'm still daen it! A twal year auld Perth lad, Eric, won the Soutar tassie this year.
Ony particlar career heighlichts
There's been monie a career heichlicht in teachin. Een in this hinnermaist year, I had a P6 class gettin Distinction in a Choral Speakin exam, actin oot Robert Garioch's poem, Fibaw in the Street.
The Nicht Afore Chrismas buik cam aboot cause I've been involvit wi Scots poetry sae lang, I thocht I'd hae a crack at daen an owersettin. Rosie Cunningham, a Glesca artist, did the braw, colourfu illustrations. We gied Faither Yuletide, his reindeer and sleigh a Celtic/Icelandic/Shetlandic mak-ower, and set it, no in a wee kintra cottage, but in a Glesca tenement hoose, basin it in and aroon the National Trust for Scotland's ane in Garnet Hill. I'm gey obleeged tae Paul Philippou an aa the fowk at Tippermuir Books wha helped us apply fir a Scots Language Publication Grant, and gey obleeged tae the Scottish Goverment and Scottish Boook Trust fir gien us ane!
And then, another heichlicht is that oor dochter, Ishbel, is noo a Scots campaigner anaa! She scrievit and performed aa ower the kintra, her play aboot Scots, O is for Hoolet. She wiz nominatit twa year syne as Scots Speaker o the Year at the Scots Language Awards.
Wha's yer plans fir the days aheid?
I've made a stert oan anither buik in Scots, set at Yule aince mair! Aa goin weil, it suid come oot neist year.
Read more about Irene McFarlane
http://tippermuirbooks.co.uk
Facebook: http://www.facebook.com/
Twitter: http://www.twitter.com/
Instagram: http://www.instagram.com/
The Scots Language Awards are in the Gardyne Theatre, Dundee on 25th September at 7pm. Tickets are available to buy here: https://www.gardynetheatre.org.uk/show/the-scots-language-awards/ Performing on Saturday 25th September include Ellie Beaton, Anna Stewart, Gemma Johnson and more to be announced.
If you would like to support Hands Up for Trad in their work with Scottish trad music and musicians please consider supporting our Patreon campaign. We have 3 tiers starting at $1 a month and everything helps support us in our work. Read more at www.patreon.com/handsupfortrad