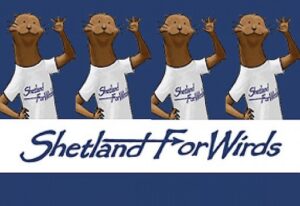 Weel duin tae Shetland Forwirds wha hae bin nominatit in Scots Project o the Year sponsored by Scots Hoose in the Scots Language Awards. Vote now!
We askit Bruce Eunson o Shetland Forwirds thae speirins. Vote now!
Tell us aboot yersel or yer ootfit.
Shetland ForWirds aims tae foster an promote da use o written an spokken Shetland dialect as a valued an essential element o Shetland's distinctive heritage an culture. Tae achieve dis we will encourage an assist wi:
– da recordin, publishin an broadcastin o da Shetland dialect;
– da development o Shetland dialect as a valid element o education at aa levels;
– da acceptance o Shetland dialect ithin da Shetland community.
Office bearers:
Ann Marie Anderson, Joint convener
Bruce Eunson, Joint convener
Karlin Anderson, Vice-convener
Eileen Brooke-Freeman, Secretary
Mona Walterson, Treasurer
Whit wis it got ye involvit wi the Scots leid?
Shetland ForWirds wis formed in 2004 at da end o a conference aboot da Shetland dialect. Dat convention wis keen tae see wir unique wye o spikin – wi wir Nordic an Scottish roots – survive an thrive.
Ony particlar career heighlichts
Shetland ForWirds haes been run bi a peerie group o volunteers fir mony years, in dat time we ir particularly prood o da wark wir achieved. Wir ey pitten a strang focus on twa areas dat we feel is important fir da dialect tae survive an thrive: makkin resources available fir teachers an bairns so at dey can learn an use da dialect in schools, as weel as makkin materials fir fok o ony age/backgroond tae learn an engage wi da dialect in wider aspects o public life.
Wha's yer plans fir the days aheid?
In da days ahead ForWirds will be visitin schools in Shetland wi new dialect resources wir created fir Primary bairns; we will be launchin a new App fir usin da Shetland Dictionary; we will continue tae pit on gadderies an fjaanas fir fok tae share dialect writin an tae hear da dialect; as weel as assistin idder individuals an organisations wha wish tae engage mair wi da dialect.
Read more about Shetland Forwirds
https://www.shetlanddialect.org.uk/
Facebook: https://www.facebook.com/ShetlandForWirds/
Twitter:
Instagram:
The Scots Language Awards are in the Gardyne Theatre, Dundee on 25th September at 7pm. Tickets are available to buy here: https://www.gardynetheatre.org.uk/show/the-scots-language-awards/ Performing on Saturday 25th September include Ellie Beaton, Anna Stewart, Gemma Johnson and more to be announced.
If you would like to support Hands Up for Trad in their work with Scottish trad music and musicians please consider supporting our Patreon campaign. We have 3 tiers starting at $1 a month and everything helps support us in our work. Read more at www.patreon.com/handsupfortrad
This post is also available in: English