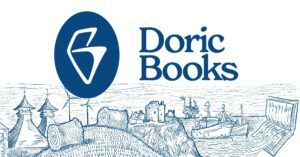 Weel duin tae Jackie Ross wha hae bin nominatit in Scots Business o the Year sponsored by Scots Language Society in the Scots Language Awards. Vote now!
We askit Jackie Ross o Jackie Ross thae speirins.
Tell us aboot yersel or yer ootfit.
We (writer/illustrator, Aaron Gale an storyteller, Jackie Ross) set Doric Books up as a Community Interest Company (CIC). Iss means aat we exist tae benefit e Doric spikkin community. We'll dee iss bi publishin buiks in Doric an bi haudin Doric wirkshops an events in skweels, care hames an ither community settins. We wint folk tae hae e chunce tae eese oor mither tongue ony place they ging.
We've only been gaun officially since e end o Mey bit we spint e sax month afore thon deein research an settin up e business. Neither o wir backgruns is in publishin bit we baith hae a heist o skills thit we bring tae this new venture an a hale load o passion. We ken it's nae gaun tae maun a lot o siller bit as lang as we can pey e bills an produce mair buiks we'll be fair trickit. Iss is aa aboot promotin oor dialect o e Scots leid.
Whit wis it got ye involvit wi the Scots leid?
It's watchin his ain bairns growin thit his prompted Aaron tae get involved in iss venture. He wints tae pass on e tongue thit his grunny an granda spoke, tae his ain bairns. He thinks we need mair buiks written in Doric sae aat mithers an faithers an grunnys an grandas can read stories tae bairns in thir mither tongue.
Jackie haes aye been a Doric spikker an as far she cud his eesed e Doric at hame an at wirk. She's promoted e Scots Leid as a teacher an a storyteller, gettin involved in a heist o local projects celebratin e mither tongue. She wintit tae get involved in Doric Books cos it's nae easy tae get buiks published in Doric an she thocht iss wis an affa shame. Sae, instead o complainin aboot it she decided tae dee sumthin aboot it! Meetin Aaron wis a bit o a blythe happenstance bit ower e last year we've cum a lang wye fae e initial idea tae publishing twa buiks in Doric!
Ony particlar career heighlichts
Settin up Doric Books!
Mebbe e particular heichlicht his been e response fae folk. We kint thit folk in e Nor-East are passionate aboot thir mother tongue bit we've been fair trickit wi e support an enthusiasm folk hiv shown. Sae far we've hid interviews wi Doric TV, Scots Radio an BBC Radio Scotland. We've geen talks tae Rotary Clubs an deen storytellin fur local charities. We've run a succesfu croodfundin campaign tae gaither eneuch siller tae publish oor second buik. An we've hid puckles o author speirin iv we wud luik at thir wirk wi a view tae publishin.
We're fair chuffed wi fit we've deen in sic a short time an affa pleased wi foo oor first twa buiks hiv cum oot. We're rarin tae haud gaun wi publishing mair buiks in Doric.
Wha's yer plans fir the days aheid?
We're plannin tae pit audio tracks fur oor buiks ontae oor website sae folk can hear e Doric spoken iv they're nae shur aboot it.
We hiv twa ither bairns buiks in e pipeline. Een aboot a polar bear thit shud be oot afore Christmas an e ither een aboot a robin fae gies huntin fur e owner o a tint aig. It'll cum oot neist year.
We're actively explorin wyes tae support ither Doric screivers inna.
On e community engagement side we've got a puckle storytellin sessions (sum funded bi e Scottish Storytellin Centre) an wirkshops lined up. We're houpin tae dee mair eense care hames an skweels open up even mair.
Excitin times aheid!
Read more about Jackie Ross
http://doricbooks.com
Facebook: http://www.facebook.com/doricbooks
Twitter: http://www.twitter.com/doricbooks
Instagram: http://www.instagram.com/doricbooks
The Scots Language Awards are in the Gardyne Theatre, Dundee on 25th September at 7pm. Tickets are available to buy here: https://www.gardynetheatre.org.uk/show/the-scots-language-awards/ Performing on Saturday 25th September include Ellie Beaton, Anna Stewart, Gemma Johnson and more to be announced.
If you would like to support Hands Up for Trad in their work with Scottish trad music and musicians please consider supporting our Patreon campaign. We have 3 tiers starting at $1 a month and everything helps support us in our work. Read more at www.patreon.com/handsupfortrad