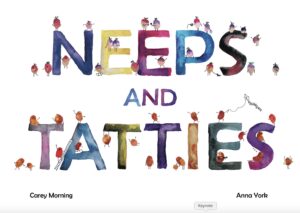 Weel duin tae Carey Morning / Neeps and Tatties wha hae bin nominatit in Scots Bairns' Book o the Year sponsored by Scottish Government in the Scots Language Awards. Vote now!
We askit carey morning o Carey Morning / Neeps and Tatties thae speirins. Vote now!
Tell us aboot yersel or yer ootfit.
As fer masel, I am a non-Scots speaking New Yorker who came to these shores 30 years ago and so far have not regretted it. I'm a mother, psychotherapist, writer, artist, gardener, lover of beauty and living things, fairly suited to life in Edinburgh, save for the dreich, which is still a bit of a challenge.
Whit wis it got ye involvit wi the Scots leid?
Neeps and Tatties was inspired by my grief at learning of the sad sectarianism in Scotland and my wish to tell a tale of healing. When I started to write it I was possessed by an unexpected, rollicking, rhyming Scots spirit, helped by a Scots dictionary and thesaurus and eventually by James Robertson. How could a story called Neeps and Tatties NOT be written in Scots? I had to give it a go.
Ony particlar career heighlichts
My long and varied career has been full of glorious heighlichts, mostly private moments of human healing, with a few somewhat public thrills. Nil by Mouth bringing out Neeps and Tatties has been a great one, as they are doing such beautiful work with it, teaching kids about prejudice and sectarianism, helping them break down the walls that divide us- just what it was meant for! "Jist whit the Haggis had ayewis been hopin!"
Wha's yer plans fir the days aheid?
I'm planning to soak up whatever warmth and sun is left in the season and then invest in some good rain gear.
Read more about Carey Morning / Neeps and Tatties
http://www.nilbymouth.org
Facebook: http://www.facebook.com/
Twitter: http://www.twitter.com/
Instagram: http://www.instagram.com/
The Scots Language Awards are in the Gardyne Theatre, Dundee on 25th September at 7pm. Tickets are available to buy here: https://www.gardynetheatre.org.uk/show/the-scots-language-awards/ Performing on Saturday 25th September include Ellie Beaton, Anna Stewart, Gemma Johnson and more to be announced.
If you would like to support Hands Up for Trad in their work with Scottish trad music and musicians please consider supporting our Patreon campaign. We have 3 tiers starting at $1 a month and everything helps support us in our work. Read more at www.patreon.com/handsupfortrad
This post is also available in: English