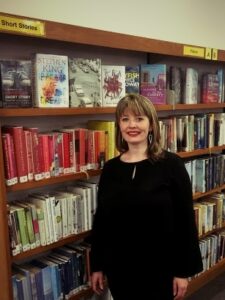 Weel duin tae Anna Stewart wha hae bin nominatit in Scots Writer o the Year sponsored by National Library of Scotland in the Scots Language Awards. Vote now!
We askit Anna Stewart o Anna Stewart thae speirins. Vote now!
Tell us aboot yersel or yer ootfit.
I'm fae Dundee whar I wirk in the leebrary, I hae a wee boy an stey in a flat juist like the ain I wis born. Ma mither wis the first wumman tae hae a bairn at hame fir 30 year in Dundee and haed tae fight wi the mannie doctors tae hae a hame birth – I cam oot blue wi the cord roond aboot ma neck, but I wis living. Ma stories hiv been publisht in: Scotland After the Virus (Luath Press), A Short Affair (Simon and Schuster), Rebel (Scottish Book Trust), Scots Hoose, Riptide Journal, For Books' Sake: The Weekend Read, New Writing Dundee, an Gutter Magazine. I wis shortlisted fir The Royal Academy and Pin Drop Short Story Award in 2017, an Bloody Scotland's Short Story Competition in 2015. I won The Dragons' Pen at Edinburgh International Book Festival in 2010, fir ma story Pleasureland.
Whit wis it got ye involvit wi the Scots leid?
I wis gein an MLitt in Creative Writing fae The University o St. Andrews, an a degree in Theatre fae Dartington College o Airts, whar I lay ma brains asteep in voice an scrievin. Mair and mair, the soond o written wirds, an the voices fae ma place o birth cam tae be o interest. And readin authors scrievin in Scots, an ither fowk scrievin in their ain indigenous leids haes inspired me.
Ony particlar career heighlichts
It wis awfy guid tae be gein a Scottish Book Trust New Writers Award, an ane o Cove Park's Scottish Emerging Writer Residencies.
Wha's yer plans fir the days aheid?
I dinnae ken whit I'm daen the morn, neer mind the days aheid, but I'm liken tae be scrievin stories.
Read more about Anna Stewart
http://www.annastewartwrites.com
Facebook: http://www.facebook.com/
Twitter: http://www.twitter.com/
Instagram: http://www.instagram.com/
The Scots Language Awards are in the Gardyne Theatre, Dundee on 25th September at 7pm. Tickets are available to buy here: https://www.gardynetheatre.org.uk/show/the-scots-language-awards/ Performing on Saturday 25th September include Ellie Beaton, Anna Stewart, Gemma Johnson and more to be announced.
If you would like to support Hands Up for Trad in their work with Scottish trad music and musicians please consider supporting our Patreon campaign. We have 3 tiers starting at $1 a month and everything helps support us in our work. Read more at www.patreon.com/handsupfortrad
This post is also available in: English