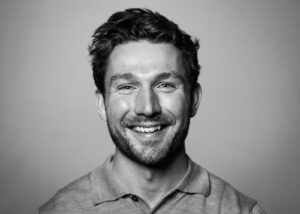 Weel duin tae Alistair Heather wha hae bin nominatit in Scots Media Person o the Year sponsored by Dictionaries of the Scots Language in the Scots Language Awards. Vote now!
We askit Alistair Heather o Alistair Heather thae speirins. Vote now!
Tell us aboot yersel or yer ootfit.
A'm a scriever, presenter an producer wha's aye ettlin tae bring Scots intae mair mainstream media. A'm jist finishin aff ma Maisters in History fae Dundee, an warkin fir The Courier as a columnist an Dundee United as a presenter.
Whit wis it got ye involvit wi the Scots leid?
A'v aye been interestit in Scots – ma granny an granda were rare singers o Scots sangs – an ma mammy wis aye pittin us on tae Scots poems anaa. When i was a bairn, oor primary schuil won Scots School o the Year. Awfy excitin.
Billy Kay encouraged us tae dae mair wi Scots as ma career developed in communications.
Ony particlar career heighlichts
Wrote an presentit a BBC Scotland documentary 'Rebel Tongue' aa aboot modren Scots. Run evenin classes fir fowk wantin tae lairn tae be mair confident wi their Scots, wi mony happy memories.
Wha's yer plans fir the days aheid?
Mair normal cultural conversations happenin in Scots. Fir me, that'll be podcasts, newspaper columns, radio an tele.
Maistly jist encouragin them that aaready speak it tae yaise it mair often, in wider company an wi greater awareness an pride in their leid.
Read more about Alistair Heather
http://www.facebook.com/AlistairHeatherWriter
Facebook:
Twitter: http://www.twitter.com/ChanterRanter
Instagram: http://www.instagram.com/historic_ally
The Scots Language Awards are in the Gardyne Theatre, Dundee on 25th September at 7pm. Tickets are available to buy here: https://www.gardynetheatre.org.uk/show/the-scots-language-awards/ Performing on Saturday 25th September include Ellie Beaton, Anna Stewart, Gemma Johnson and more to be announced.
If you would like to support Hands Up for Trad in their work with Scottish trad music and musicians please consider supporting our Patreon campaign. We have 3 tiers starting at $1 a month and everything helps support us in our work. Read more at www.patreon.com/handsupfortrad