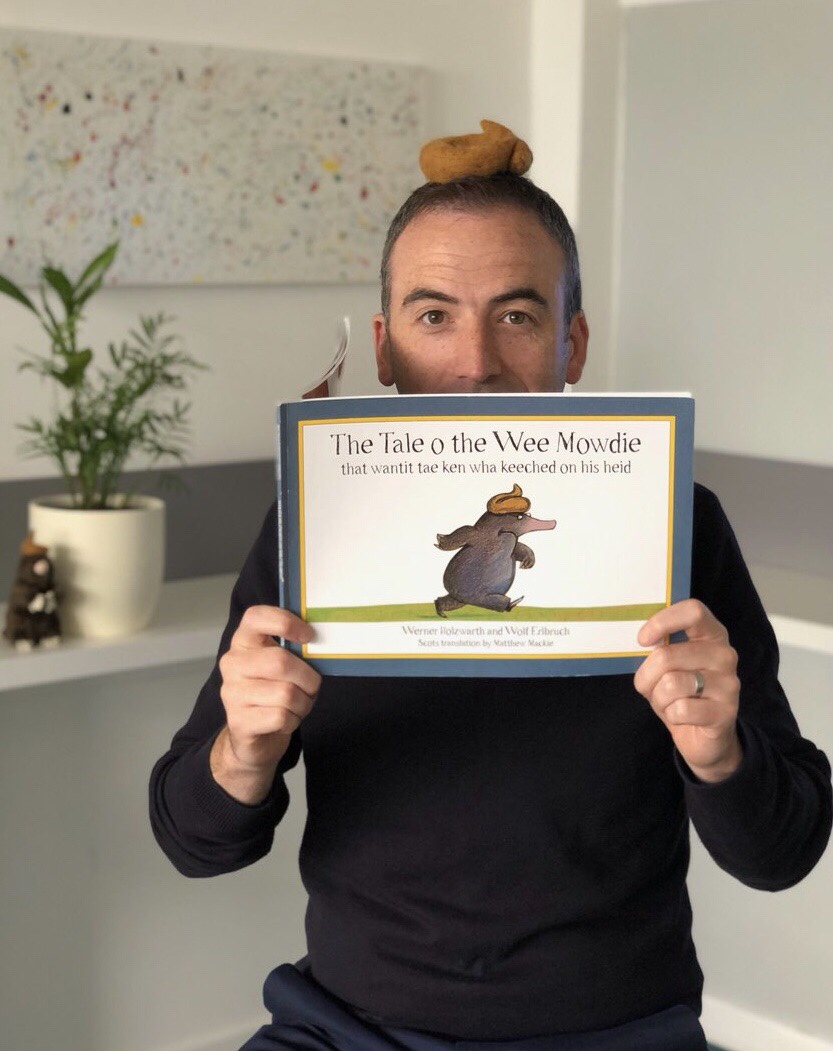 Congratulations to The Tale o the Wee Mowdie that wantit tae ken wha keeched on his heid who have been nominated in Scots Bairns' Book o the Year sponsored by Scottish Government in the Scots Language Awards 2019. Vote now!
We asked Matthew Mackie of The Tale o the Wee Mowdie that wantit tae ken wha keeched on his heid the following questions.
Tell us about yourself
Matthew Mackie is from Perth, where he lives with his wife Emma and two young boys John and Jacob. He is a Principal Teacher at the city's Perth High School and is keen to promote teaching and learning in Scots at school. In his spare time, Matthew is interested in graphic design and has produced cover artwork for several popular books. Matthew has also helped to establish Cycling Without Age Perth, a charitable organisation that offers free trishaw rides to elderly passengers in the Fair City.
Why are you involved in Scots language?
I believe we have a duty to promote, nurture, protect and celebrate Scots language and I am keen to make sure I play my part.
Any particular career highlights?
The highlight of my career so far has been the overwhelming success of The Tale o the Wee Mowdie. What a journey. The response from the public has been phenomenal, from children and adults, from Scots and non-Scots; it has been quite overwhelming and beyond anything I could have imagined.
And it's no complete keech, ye ken! Scots words for animals, body parts and the natural environment; Scots expressions and onomatopoeia – there's a lot of learning in what at first glance appears to be a daft wee story about…well…keech.
What are your plans for the future?
I am busy working on a couple of new Scots language projects with the guys at Tippermuir Books which I'm pretty excited about. They are a brilliant team and I'm grateful for their support with The Tale o the Wee Mowdie and their passion for Scots language publishing.
Read more about The Tale o the Wee Mowdie that wantit tae ken wha keeched on his heid
http://tippermuirbooks.co.uk/?product=the-tale-o-the-wee-mowdie-that-wantit-tae-ken-wha-keeched-on-his-heid
Facebook: http://www.facebook.com/
Twitter: https://twitter.com/WeeMowdie
Instagram: http://www.instagram.com/
If you wish to attend the Scots language awards, tickets are available to buy via: https://www.ticketsglasgow.com/Pages/EventDetail.aspx?EventId=8fd8b867-811e-4bfc-a2c0-aab900efc42b For box office call 0141 353 8000 or email box@horsecross.co.uk. Performing on Friday 27th September include Iona Fyfe Trio, Susi Briggs, Steve Byrne and more to be announced.
If you would like to support Hands Up for Trad in their work with Scottish trad music and musicians please consider supporting our Patreon campaign. We have 3 tiers starting at $1 a month and everything helps support us in our work. Read more at www.patreon.com/handsupfortrad
This post is also available in: English