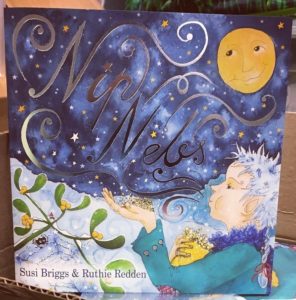 Congratulations to Susi Briggs and Ruthie Redden who have been nominated in Scots Bairns' Book o the Year sponsored by Scottish Government in the Scots Language Awards 2019. Vote now!
We asked Susi Briggs the following questions.
Tell us about yourself
Nip Nebs is an original pictur buik in Scots scrieved by Susi Briggs, illustrated by Ruthie Redden and published by Curly Tale Books Ltd.
Ootby in the shaddies o the pale moonlicht….
A skinklan tale in Scots aboot Jack Frost and whit he gets up tae when the muin is bricht. Hae a splore roon the skinklan landscape and fin aw the creatures and faerie folk keeking oot in amang the enchanting illustrations.
Why are you involved in Scots language?
I yaised tae scrieve aw my stories in English. I wid send them oot tae publishers. Yin o my stories cawed The Wee Sleepy Sheepy wis rejected ower an ower again. The final rejection letter said that they wid publish the story if I "omitted the Scottish flavour". I wid need tae caw it The Sleepy Sheepy. That wee "wee" wird meant awfy muckle in that yin moment o time. So, I rejected them instead!
I translatit aw the stories I had awready scrieved intae Scots as best a cuid wi the wee bit knowledge I had at the time. I had tae hope that yin day they wid get published. At that time there wis nae much access tae weans buik in Scots and I was excited tae see wurks coming fae Itchy Coo publishing fae scrievers such as Susan Rennie, James Robertson and Matthew Fitt. The Itchy Coo Katie Beardie buiks and translatit weans buiks gave me great hope at the time. Fae translatin The Last Berry story I discovered and scrieved the story o Nip Nebs.
No lang efter I screived Nip Nebs I met illustrator and artist Ruthie Redden. She cuid see him in her mind as I recited the story poem tae her. Ruthie felt inspired and illustrated the wirds and thegither we created Nip Nebs. We ey hoped that yin day some buddy wid publish the buik. We were telt by experts in the wurld o weans buiks that Scots wis too niche. It didnae metter hoo bonny it luiked. It wis nae marketable. We nivver ever gave up hope that guid things wid come alang fer oor Nip Nebs.
In 2017 Ruthie exhibited the illustrations at a local gallery. Jayne Baldwin and Shalla Gray o Curly Tale Books publishing fell in luv wi Nip Nebs and courageously took the risk fer Nip Nebs tae become a reality. Team Nip Nebs hae wirked hard tae inspire, raise the accessibility and awareness o the Scots language e'er synce.
Any particular career highlights?
Wirking wi Ruthie and the rest o the Nip Nebs team is a constant highlight!
Tae pin doon a few:
•​Meeting Matthew Fitt. I stravaiged intae his event "The Eejits" at Wigtown Book Festival dressed as Mr Eejit purely so he wid be curious enough tae talk tae me and for me tae introduce masel. I wanted tae let him ken Nip Nebs was noo gaun tae be published. (I had jist fun this guid news oot days before) Dumfoonert he cam ower and we had a blether! I got tae tell Matthew that his translatit buiks wi Itchy Coo publishing had kept me inspired during the time I wis translatin my ain stories intae Scots.
•​When Ruthie and I opened the first box o Nip Nebs buiks at the first buik launch. That wis a joyous moment, baith o us staunin there marvelling at whit we had created thegither.
•​The feedback we get fae the weans in scuils. Gettin wee paintins fae them at author visits fair mak my hert gled. Every time we dae a Nip Nebs Trail there is ey something special happening. Lee McQueen wha plays oor Nip Nebs fair gets himself intae character and we hae had mony a daft moment thegither oan those trails.
•​Hearin actor Gary Lewis read oot Nip Nebs oan an audio wi the backgroon o music "Nip Nebs Theme" composed by Alan McClure's wis really amazin. They had created this fer a special fundraiser at the time. The audio is something that we can yaise fer author visits. It soonds fair magical! It hasnae been officially released yet but we dae hae plans tae rerecord and dae something wi it. We need some investment of time and money to get that completed. It will happen.
•​I loved reading "Nip Nebs and other Scots Tales" wi Gary Lewis at Waterstones Dumfries. There wis a moment when Gary and I were sitting smilin at this wee lassie wha kept saying "Puddock" because it soonded nice in her mooth. That moment still makes me grin.
•​Meeting Nicola Sturgeon wis pretty braw at the Wigtown Book Festival and her telling me that she really liked oor buik Nip Nebs. I think I grinned non stop fer aboot 24 hours efter that encoonter.
•​Oor publisher's Curly Tale Books received the first Scots Publication Grant recently which they will yaise tae publish oor second buik Nip Nebs and The Last Berry. That wis a muckle highlight cos they truly deserve it. They believed in us when others didnae or mibbes couldnae tak the risk.
•​Finally, being pairt o the first Scots Language Awards is incredible. The event brings validation tae the community wha wirk daily tae build oan the accessibility and awareness o the language in their ain unique weys. Tae be invited tae tak pairt has personally gied me a sense o belangin tae this wonderfu community.
What are your plans for the future?
I howp tae continue tae create Scots language pictur buiks fer weans wi Ruthie Redden and Curly Tale Books for mony years tae come.
The team wid like tae see an animated version o Nip Nebs. The vision is no jist for oor ain buiks tae be animated but fer ither Scots stories fer weans tae. Positive representation o the Scots language in visual media fer weans is sadly lacking. The Nip Nebs team wid like tae see that chynge. It wid be anither creative wey tae encourage and build oan the awareness that we hae a beautiful and valid voice in the world.
We hae nae idea hoo tae affect that chynge or hoo that cuid happen. We jist hope that it dis, ken that it will and trust that the magic bit happens in the middle tae mak it so.
Read more about Susi Briggs
http://www.nipnebs.com
Twitter: http://https://twitter.com/SusiBriggs1/
Instagram: http://https://www.instagram.com/susibriggsnipnebs/
If you wish to attend the Scots language awards, tickets are available to buy via: https://www.ticketsglasgow.com/Pages/EventDetail.aspx?EventId=8fd8b867-811e-4bfc-a2c0-aab900efc42b For box office call 0141 353 8000 or email box@horsecross.co.uk. Performing on Friday 27th September include Iona Fyfe Trio, Susi Briggs, Steve Byrne and more to be announced.
If you would like to support Hands Up for Trad in their work with Scottish trad music and musicians please consider supporting our Patreon campaign. We have 3 tiers starting at $1 a month and everything helps support us in our work. Read more at www.patreon.com/handsupfortrad
This post is also available in: English