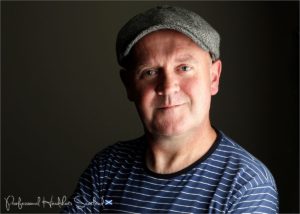 Congratulations to Stuart Paterson who has been nominated in Scots Speaker o the Year in the Scots Language Awards 2019. Vote now!
We asked Stuart Paterson the following questions.
Tell us about yourself
I work full-time as a poet & writer & have heavily promoted Scots across the UK & beyond through my work in TV, online, in print & in the classroom. My first collection entirely in Scots, 'Aye', sold out in 2016. The CD of my works by noted Scots language archivists Scotsoun is currently on sale. I live in Galloway & visit schools through the Scottish Book Trust's Live Literature scheme, much of this work focused on getting young people to write & express themselves in their own Scots. I also collaborate with other artists in music, painting, theatre & recently glasswork. Poetry, to me, should be accessible without being dumbed down, relevant without having to be jokey, for people and not AT people. Scots very nuch involves the poetry & music of people & place. It's a privilege to be part of that.
Why are you involved in Scots language?
I was brought up & educated as a young working class guy in Kilmarnock, Ayrshire & consider Scots to be my first language. It's the language we spoke in the house, in the playground, with family & pals, at work & in the howffs. It's not English or 'a dialect of English' or slang. It's a language, my language, our language. I work hard to promote its use not just in the arts but in everyday life, which I believe was one of the reasons I became BBC Scotland Poet in Residence in 2017. And I love working with young folk to let them know that their Scots is valid, treasured & a part of who they are. I'm not just involved in Scots language – it's a big part of who I am.
Any particular career highlights?
The UK National Poetry Day 2017 theme was 'Free The Word' – I wrote 'Here'sThe Weather' & made this film for the BBC about Scots language – so far, it's had over 300,000 hits & a brilliant worldwide response. Watch it here! https://www.bbc.co.uk/programmes/p05hdvgd
This summer, as part of the UNESCO Internarional Year of Indigenous Languages, I spent a month in South Africa working with hundreds of young people in university, schools & township & learning about their own native language, isiXhosa, & telling them about Scots. An amazing experience. We've plenty in common! Read more about it here! https://www.grocotts.co.za/2019/06/20/scots-meets-isixhosa-the-power-of-language/
What are your plans for the future?
I was overjoyed that renowned Scottish publisher Chapman recently received a Scottish Government grant to produce 'Wheen', my new & selected poems in Scots. And Tippermuir Books from Perth will be publishing a big, illustrated collection of my poems for weans, 'A Squatter o Bairnrhymes an ither daftness'. I'm very excited to have started work as a SQA External Verifier in schools throughout Scotland on the SQA Scots Language Award, which raises the standing & profile of Scots as a subject of increasing academic recognition. I've lots of upcoming work with schoolweans & teachers in Scots through the Scottish Book Trust & have started developing a play about the amazing Isobel 'Tibbie' Pagan of 'Ca' The Yowes' fame. And I'll continue to advocate, wherever & whenever possible, for Scots as a language. A language of the everyday & everywhere, not just one day annually in January. Haud furrit!
Read more about Stuart Paterson
https://www.scottishpoetrylibrary.org.uk/poet/stuart-paterson/
Facebook: https://www.facebook.com/patersonpoetry/
Twitter: https://twitter.com/StuartPoet
Instagram: http://www.instagram.com/
If you wish to attend the Scots language awards, tickets are available to buy via: https://www.ticketsglasgow.com/Pages/EventDetail.aspx?EventId=8fd8b867-811e-4bfc-a2c0-aab900efc42b For box office call 0141 353 8000 or email box@horsecross.co.uk. Performing on Friday 27th September include Iona Fyfe Trio, Susi Briggs, Steve Byrne and more to be announced.
If you would like to support Hands Up for Trad in their work with Scottish trad music and musicians please consider supporting our Patreon campaign. We have 3 tiers starting at $1 a month and everything helps support us in our work. Read more at www.patreon.com/handsupfortrad
This post is also available in: English