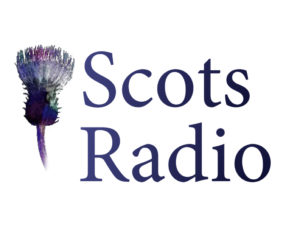 Congratulations to Scots Radio who have been nominated in Scots Business o the Year in the Scots Language Awards 2019. Vote now!
We asked Frieda Morrison of Scots Radio the following questions.
Tell us about yourself
Scots Radio is an online radio station, established in December 2013 by broadcaster Frieda Morrison. It subtly combines the Scots language, music, culture and heritage wi grace and ease an is prood tae sae it broadcasts in the language an nae jist aboot the language an its strength and influence in the Scottish arts and media scene was recently elevated when it was nominated three years in succession in the Radio Magazine Show category of the Celtic Media Festival in May 2017, alongside global radio brands such as the BBC and RTE. Listened to at home and by the Scottish diaspora around the globe it's getting people talking – and talking in Scots. Frieda has created a radio station that's a winner with the people because most other stations transmit in Gaelic or English, and Scots Radio is the one place folk hear their own music, dialects and accents.
But there's more to Scots Radio than only the programmes. Scots Radio provides an opportunity for new broadcasters to learn on the job and hone their particular style – whether it be in Radio or Video. The multi media platform has produced over seventy radio programmes and features and around thrity videos – all featuring the Scots Language – the team has developed a very strong, energetic pattern that can be duplicated on National Networks – the template is there.
Why are you involved in Scots language?
Because Scots Radio provides a unique platform that broadcasts in the language and not often about the language. We have a treasure that expresses the voices o our ancestors an deserves to be celebrated.
Any particular career highlights?
Scots Radio has been growing in popularity over the six years it has been in existence. It has been a priveledge an a extraordinary experience workin wi fowk o aa ages an backgrounds tae pit somethin the gither like Scots Radio, fae a stannin start o nithin.
Bit I wint tae add my appreciation o the support an encouragment I've hid fae the Gaelic fraternity. They were here nae that lang ago – look at the progress they've made in the media. Thank you. Frieda Morrison – Director
What are your plans for the future?
To develop an expand the team – maak mair videos – an build on the strong foundation that wiv created to attract sponsors. Noo wir ready.
Read more about Frieda Morrison
http://www.scotsradio.com
Facebook: http://www.facebook.com/scotsradiomedia
Twitter: http://www.twitter.com/scotsradiomedia
Instagram: http://www.instagram.com/
If you wish to attend the Scots language awards, tickets are available to buy via: https://www.ticketsglasgow.com/Pages/EventDetail.aspx?EventId=8fd8b867-811e-4bfc-a2c0-aab900efc42b For box office call 0141 353 8000 or email box@horsecross.co.uk. Performing on Friday 27th September include Iona Fyfe Trio, Susi Briggs, Steve Byrne and more to be announced.
If you would like to support Hands Up for Trad in their work with Scottish trad music and musicians please consider supporting our Patreon campaign. We have 3 tiers starting at $1 a month and everything helps support us in our work. Read more at www.patreon.com/handsupfortrad
This post is also available in: English