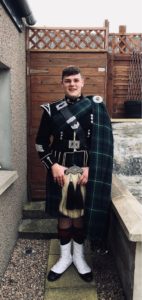 Congratulations to Robert Legge who has been nominated in Young Scots Speaker o the Year sponsored by Education Scotland in the Scots Language Awards 2019. Vote now!
We asked Robert Legge the following questions.
Tell us about yourself
A'm jist a young loon fae the North East town oh Banff that loves tae spik his ain tongue. I huv been heavily involved wee the development o Scots Language In oor local schweels, frum recording a doric spikin documentary fur the BBC oan my upbringing wee doric and spikin it roon the hoose to developin a wee film tae circulate schools oan the importance o spikin the mither tongue. I huv also done some work alongside the education board oan introducing the award fur Scots Language in Schweels. I huv also scribblet a fair few Scots pieces that huv circulated mony o places far n wide. I um also the Pipe Major o the Portsoy Pipe Band spreading nae only my love fur the language but the music o Scotland ana!
Why are you involved in Scots language?
I hud chosen to study Scots Language as a main subject fur my last year o Schweel. I hiv ay hid a keen interest fur Scots and kaint it was about time that Schweels brocht it in as a recognised Qualification. During my time at schweel I attendet class 5/6 times a week bit also took a keen interest oan it ootwith my study time deein work wee the BBC and a couple o ither well kaint Scots Influencers. I continue tae be huvily involved wee Scots Language tae ensure that the younger generation comin through realise that it is aricht tae spik yur ain tongue!
Any particular career highlights?
The Highlicht o my Scots Language career wis working alongside Alistair Heather tae develop a Documentary fur the BBC Social oan the importance o the mother tongue. I rabbelt oan aboot how I wis brocht up aroon Scots at hame and how important it wis to keep the mither tongue alive in our Schweels and hames. Anither Highlicht wis deein some Scots wurk alongside Matthew Fitt translating some famous pieces into oor ain tongue and scribblin my ain poem tae pass room ither fellow students.
What are your plans for the future?
My Plans are tae continue tae help the education board tae highlicht the importance o Scots in schweel and to ensure that the option tae study and gain an award is available tae abdy fae ah oor. I wid also like tae continue my wurk wee BBC Scotland oan sharing the wurd wee the world aboot the Importance o our mither tongue and jist keep scribbling poems and wee stories in Scots tae share wee fowk fae a ower.
Read more about Robert Legge
Facebook: http://www.facebook.com/robert.legge.3/
Twitter: http://www.twitter.com/
Instagram: https://www.instagram.com/robertlegge_/
If you wish to attend the Scots Language Awards, tickets are available to buy via: https://www.ticketsglasgow.com/Pages/EventDetail.aspx?EventId=8fd8b867-811e-4bfc-a2c0-aab900efc42b For box office call 0141 353 8000. Performing on Friday 27th September include Iona Fyfe Trio, Susi Briggs, Steve Byrne and more to be announced.
If you would like to support Hands Up for Trad in their work with Scottish trad music and musicians please consider supporting our Patreon campaign. We have 3 tiers starting at $1 a month and everything helps support us in our work. Read more at www.patreon.com/handsupfortrad
This post is also available in: English