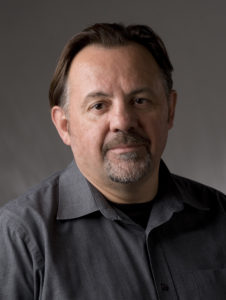 Congratulations to Rab Wilson who has been nominated in Scots Writer o the Year sponsored by Scots Language Centre in the Scots Language Awards 2019. Vote now!
We asked Rab Wilson the following questions.
Tell us about yourself
Ah'm a poet wha scrieves maistly in Scots. Born an grew up in Ayrshire. Lang history as activist an advocate fir Scots language. Hae been Robert Burns Writing Fellow fir Dumfries & Galloway, an hae jist complete 3 year stint as Scriever in Residence at Robert Burns Birthplace Museum. Various poetry collections published; rangin frae the Ruba'iyat of Omar Khayyam in Scots, tae poems aboot the Miner's Strike, tae sonnet redoubles oan the Scottish Diaspora (Cormilligan) an the history o Flying Scot bicycles! Am regular columnist in Scots fir The National newspaper – an alsae campaign fir social justice in health care; this follaes ma career as a psychiatric staff nurse an as a whistleblower in the NHS.
Why are you involved in Scots language?
It is the leid that ah grew up wi in New Cumnock, East Ayrshire. It's the naitrel leid ah hae spoken aa ma days. Ither Scots poets chose tae write in Scots – sae ah ettled tae dae the same! Forby, thair a guid poetic heritage in Ayrshire frae ither kenspeckle poets – ane in perteecular! It is wha we are as a race and a people – destroy fowk's language an ye destroy a culture. We must fecht tae keep Scots a leevin, breathin leid – be prood o it, uise it evri day, an encourage its uise in poetry, drama, leeterature, TV, Radio, Media sae that it is restored tae its richtfu place in oor hairts an in oor minds.
Any particular career highlights?
Owersettin Omar Khayyam's Ruba'iyat intil Scots. Reciting ma owersetting in Scots o the Russian Navy's battle hymn 'Kryser Varyag' tae a group o retired Russian naval admirals at the Varyag Memorial unvailing at Lendalfoot, Ayrshire. Makkin ma film 'Finding the Seam', anent the demise o the mining industryin Ayrshire. At it's premiere the late William McIlvanney stated; 'This is a film that needed to be made…!'. My 'Cormilligan' sonnet redouble sequence acting as catalyst for the diasporic McCaw family to return en masse to their ancestral home in Dumfries & Galloway – an event that BBC journalist Willie Johnstone described as the greatest event he had witnessed in the year of Homecoming (2009). My spell as Scriever in Residence at Robert Burns Birthplace Museum – daein writin warkshoaps in Scots fir the people. Six weeks bidin in a bothy at the heid o the Ettrick Valley as James Hogg writer in residence that produced ma collection 'Hairst'.
What are your plans for the future?
Tae keep scrievin in Scots! An this year promoting ma new collaborative buik wi Astromoner Royal, Prof John Brown ('Oor Big Braw Cosmos') – takkin the Scots leid tae infinity – an ayont! An why no….!?
Read more about Rab Wilson
https://www.scotslanguage.com/
Facebook: http://www.facebook.com/
Twitter: http://www.twitter.com/
Instagram: http://www.instagram.com/
If you wish to attend the Scots language awards, tickets are available to buy via: https://www.ticketsglasgow.com/Pages/EventDetail.aspx?EventId=8fd8b867-811e-4bfc-a2c0-aab900efc42b For box office call 0141 353 8000 or email box@horsecross.co.uk. Performing on Friday 27th September include Iona Fyfe Trio, Susi Briggs, Steve Byrne and more to be announced.
If you would like to support Hands Up for Trad in their work with Scottish trad music and musicians please consider supporting our Patreon campaign. We have 3 tiers starting at $1 a month and everything helps support us in our work. Read more at www.patreon.com/handsupfortrad
This post is also available in: English