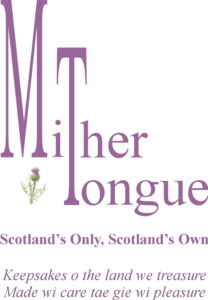 Congratulations to Mither Tongue who have been nominated in Scots Business o the Year in the Scots Language Awards 2019. Vote now!
We asked Marguerite Cruickshank of Mither Tongue the following questions.
Tell us about yourself
Best described in our website video which can be viewed here:
https://www.mithertongue.scot/our-story/mither-tongue-video/
(Please note: Our new website is meantime work in progress).
Why are you involved in Scots language?
Brought up speaking Scots and have spoken it all my life. Admirer of Burns since childhood. Scotland, Burns and the Scots language were the inspiration for Mither Tongue and at its core since 1999.
Permanently saddened and upset by the lack of support for Scots so do whatever we can to improve its image / increase its credibility.
Best summed up in my / our sixty-year-old story here
https://www.mithertongue.scot/our-story/
Any particular career highlights?
BUSINESS
Commended by Scots Language Centre 2009
Finalist – Scottish Countryside Alliance Awards 2010
Four star VisitScotland grading awarded in 2013, maintained since
(The following are not strictly career highlights, but included to illustrate our commitment to Scots, beyond business).
SUPPORTING SCOTS ON OUR WEBSITE
Petition in support of the inclusion of questions on Scots in Scotland's Census 2011.
Read lots of encouraging comments here:
Education Scotland video can be viewed here:
Our own brief history of Scots can be read here:
Our tribute to Burns can be read here:
What are your plans for the future?
LICENSE THIS! COMPETITION
In August, we entered the above, very prestigious competition, the finalists of which will be announced during the week commencing 9 September and must then present their entry to the judges and a live audience on 3 October at the Brand Licensing Europe Exhibition 2019 in London.
See https://www.brandlicensing.eu/
Fingers crossed!
NEW PRODUCT RANGES
On a daily basis, face-to-face interaction with customers continues to provide us with an exclusive and privileged insight into their thoughts on both the language itself and the products they'd like to see. As always, based largely on their input, we are in the process of developing three exciting mug ranges: Scotland's Bonnie Thistle (classy and sometimes a wee bit sentimental with verses, relationships etc) Tapsalteerie Tartan (bright and bonnie / often on the quirky / cheeky side) and Timeless Burns (featuring our own Burns image and including less well known poetry excerpts), all of which we hope will be on our shop shelves and website in approx 4 – 6 weeks. We're also developing card ranges to complement these.
Simultaneously in the pipeline is a range of very sleek, modern, wall décor which again will include our own images, texts, verses etc and which we think will give the language a modern look / appeal to all ages.
OOR VYCE
We aim to find out more / see how we can help, both personally and through Mither Tongue. For example, by highlighting the campaign in our shop window, within the shop and verbally to our customers.
CHILDREN / THE FUTURE FOR SCOTS / SOCIAL MEDIA
As the future of Scots rests with our children, I'm hoping to persuade a few of my grandchildren to appear in regular, short videos promoting Scots in general and the new product ranges on our social media pages.
GENERAL
We intend to keep improving and evolving, both as a business and in the support of Scots to help it achieve the status it so richly deserves.
Read more about Mither Tongue
https://mithertongue.scot
Facebook: http://www.facebook.com/mithertongue
Twitter: http://www.twitter.com/mithertongue
Instagram: http://www.instagram.com/
If you wish to attend the Scots language awards, tickets are available to buy via: https://www.ticketsglasgow.com/Pages/EventDetail.aspx?EventId=8fd8b867-811e-4bfc-a2c0-aab900efc42b For box office call 0141 353 8000 or email box@horsecross.co.uk. Performing on Friday 27th September include Iona Fyfe Trio, Susi Briggs, Steve Byrne and more to be announced.
If you would like to support Hands Up for Trad in their work with Scottish trad music and musicians please consider supporting our Patreon campaign. We have 3 tiers starting at $1 a month and everything helps support us in our work. Read more at www.patreon.com/handsupfortrad
This post is also available in: English