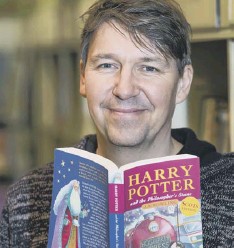 Congratulations to Matthew Fitt who has been nominated in Scots Writer o the Year sponsored by Scots Language Centre in the Scots Language Awards 2019. Vote now!
We asked Matthew Fitt the following questions.
Tell us about yourself
Eh'm a Scots writer fae Dundee. Fae 1995 tae 1997, eh wis Brounsbank Writing Fellow and soon efter Writer in Residence at Greater Pollok. Wi the makar James Robertson and Black & White Publishing, eh foondit Itchy Coo in 2002. Eh'm mairried wi twa bairns.
Why are you involved in Scots language?
Scots is meh mither tongue. Eh write in Scots because it's in meh haid and hert and is the best wey eh ken tae express meh view o the warld.
Any particular career highlights?
Iain Banks tellin me meh SF novel 'But n Ben A-Go-Go' wis a good but totally crazy idea.
Speakin on NPR in the US aboot Harry Potter in Scots tae forty million listeners.
Acceptin an honorary doctorate fae Abertay University for meh work wi the Scots language.
What are your plans for the future?
Mair Scots writin, mair Scots translations, mair work in schules helpin bairns and weans learn aboot the Scots leid.
Read more about Matthew Fitt
http://www.mfitt.co.uk
Facebook: http://www.facebook.com/
Twitter: http://www.twitter.com/
Instagram: http://www.instagram.com/
If you wish to attend the Scots language awards, tickets are available to buy via: https://www.ticketsglasgow.com/Pages/EventDetail.aspx?EventId=8fd8b867-811e-4bfc-a2c0-aab900efc42b For box office call 0141 353 8000 or email box@horsecross.co.uk. Performing on Friday 27th September include Iona Fyfe Trio, Susi Briggs, Steve Byrne and more to be announced.
If you would like to support Hands Up for Trad in their work with Scottish trad music and musicians please consider supporting our Patreon campaign. We have 3 tiers starting at $1 a month and everything helps support us in our work. Read more at www.patreon.com/handsupfortrad
This post is also available in: English