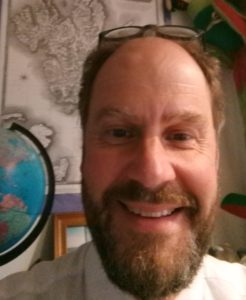 Congratulations to Jamie Fairbairn who has been nominated in Scots Teacher o the Year sponsored by Scottish Qualifications Authority in the Scots Language Awards 2019. Vote now!
We asked Jamie Fairbairn the following questions.
Tell us about yourself
I'm Jamie Fairbairn. I am a teacher of Geography, Scots Language and Travel & Tourism at Banff Academy, nestled on the bonnie Moray Coast. A heid up the Humanities Faculty, an A'm completely passionate aboot Scots Language, culture, trad an World music, and love playin drums in Portsoy Pipe Band.
Why are you involved in Scots language?
Aboot ten year syne a stairted deein Scots widder words in Geography classes. They didna sack me, so fan the SQA Scots Awards came ben in 2014, a leapt at the chance, an hiv offered a full senior Scots course o 5 lessons a wik since syne, immersin bairns in history, literature, sang (wi ma guitar!), creativity an projects wi the local community. Ma belief is that it gies bairns confidence, biggs up self regaird, gies them cultural kennins an literacy skeels. The bairns licht up!
Any particular career highlights?
Gettin bairns poems an stories published in papers an the Skoosh website; oor Fair Tricket project, wi fantastic ootpit o panels an a skills booklet in Scots; winning a Curriculum Research Fund grant tae cairry oot research at the schuil wi Aiberdeen University's Elphinstone Institute; bairns braidcastin the bairns chairter in Doric on Scots Radio; appearin on the film documentary North East Scots; gettin the bairns on BBC Alba, STV, Radio Scotland, Scots Radio – gowd dust fer confidence; articles fer British Education Research Institute; gettin tae wark wi Matthew Fit; and Monie mair! It's jist brilliant tae see bairns mither tongue gettin a heeze up!
What are your plans for the future?
Haud gaan, get mair an mair schuils deein the SQA award, an makkin as monie pairtnerships as possible tae get bairns an the wider community thegither deein Scots. Ma ambition – Scots Medium Education – a hub fer Aiberdeenshire.. A've trialled some materials aridy!
Read more about Jamie Fairbairn
https://banffacademy.co.uk/
Facebook: https://m.facebook.com/jamie.fairbairn.98
Twitter: https://mobile.twitter.com/bxageography
Instagram: http://www.instagram.com/
If you wish to attend the Scots Language Awards, tickets are available to buy via: https://www.ticketsglasgow.com/Pages/EventDetail.aspx?EventId=8fd8b867-811e-4bfc-a2c0-aab900efc42b For box office call 0141 353 8000. Performing on Friday 27th September include Iona Fyfe Trio, Susi Briggs, Steve Byrne and more to be announced.
If you would like to support Hands Up for Trad in their work with Scottish trad music and musicians please consider supporting our Patreon campaign. We have 3 tiers starting at $1 a month and everything helps support us in our work. Read more at www.patreon.com/handsupfortrad
This post is also available in: English