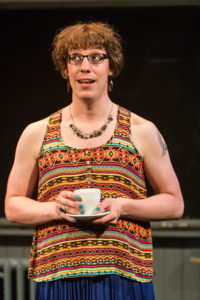 Congratulations to Harry Josephine Giles who has been nominated in Scots Performer o the Year sponsored by Tracs in the Scots Language Awards 2019. Vote now!
We asked Harry Josephine Giles the following questions.
Tell us about yourself
I'm a writer and performer from Orkney, living in Edinburgh. I do poems and games and theatre. My show Drone just finished a five-star run at the Edinburgh Fringe, my book The Games came out from Out-spoken Press last year, and my game Raik is the first ever computer game in Scots.
Why are you involved in Scots language?
I grew up surrounded by Orkney Scots — the language of childhood is the language of always. I perform in and promote Scots now because linguistic diversity is as important as environmental diversity — having lots of languages around means having more ideas, stranger thoughts, and more thrawn folk. That, and it's a good language to swear in.
Any particular career highlights?
Upstairs at the Torvhaug in Kirkwall, back in 2015, I hosted a night of Orkney language writers — all generations, all styles, all voices. It showed folk that the language they thought was suffering was well alive and had a lot to say.
I've been nominated for the Edwin Morgan Prize twice, the Forward Prize once, and performed Scots from the Nuyorican Poets Café in New York to the New Zealand Writers' Festival in Wellington, but that's likely the best thing I've done.
What are your plans for the future?
Editing a book 150 years of Orkney language writing, publishing my own Orcadian sci fi verse novel (yes really), and turning that into a full show. I've got to take Drone round the world first though.
Read more about Harry Josephine Giles
http://www.harryjosephine.com
Facebook: http://www.facebook.com/harryjosiegiles
Twitter: http://www.twitter.com/harryjosiegiles
Instagram: http://www.instagram.com/harryjosiegiles
If you wish to attend the Scots Language Awards, tickets are available to buy via: https://www.ticketsglasgow.com/Pages/EventDetail.aspx?EventId=8fd8b867-811e-4bfc-a2c0-aab900efc42b For box office call 0141 353 8000. Performing on Friday 27th September include Iona Fyfe Trio, Susi Briggs, Steve Byrne and more to be announced.
If you would like to support Hands Up for Trad in their work with Scottish trad music and musicians please consider supporting our Patreon campaign. We have 3 tiers starting at $1 a month and everything helps support us in our work. Read more at www.patreon.com/handsupfortrad
This post is also available in: English