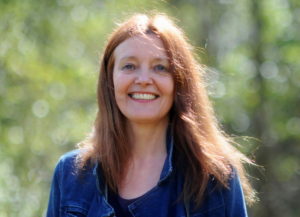 Congratulations to Gerda Stevenson who has been nominated in Scots Writer o the Year sponsored by Scots Language Centre, Scots Performer o the Year sponsored by Tracs in the Scots Language Awards 2019. Vote now!
We asked Gerda Stevenson the following questions.
Tell us about yourself
Gerda Stevenson is an award-winning writer, actor, director, singer-songwriter, working in theatre, television, radio, film, and opera, throughout Britain and abroad. Her poetry, drama and prose have been widely published, staged, and broadcast on BBC Radio 4. Her stage play, FEDERER VERSUS MURRAY was published by Salmagundi, USA, touring to New York in 2012. Her many theatre performances include the title role in Edwin Morgan's PHAEDRA, a Scots translation of Racine's PHEDRE. Nominated three times for the Critics Awards for Theatre in Scotland, and as Scots Singer of the Year for the MG Alba Trad Awards, following release of an album of her own songs, NIGHT TOUCHES DAY, she appeared in BRAVEHEART, and won a BAFTA Best Film Actress award for her role in Margaret Tait's BLUE BLACK PERMANENT. Literary festival readings include Czech Republic, Slovakia, Poland, Trinidad, Italy, USA, UK and Ireland. Her opera libretto, a contemporary re-telling of Coleridge's THE RIME OF THE ANCIENT MARINER, was commissioned and produced by the University of Edinburgh, 2017. Her poetry collection IF THIS WERE REAL (Smokestack Books, 2013), was published in an Italian translation, SE QUESTO FOSSE VERO, by Edizioni Ensemble, Rome, 2017. She won the YES Arts Festival Poetry Challenge, 2013, and the Robert Tannahill Poetry Prize, 2017. Her second poetry collection, QUINES: POEMS IN TRIBUTE TO WOMEN OF SCOTLAND, was published by Luath Press, 2018. Her latest publication is INSIDE & OUT – the art of Christian Small (Scotland Street Press, 2019), for which Gerda wrote the biographical introduction and a series of thirteen poems. She is currently collaborating on a book about Edinburgh, with landscape photographer Allan Wright, for which she has written the introduction and a sequence of new poems.
Why are you involved in Scots language?
I was born and brought up in the Scottish Borders, where I heard Scots spoken throughout my childhood. Although my parents are from Lancashire, my father, the composer/pianist, Ronald Stevenson, set the words of many Scots language poets to music – Hugh MacDiarmid, William Soutar, Sydney Goodsir Smith, Helen B Cruikshank, and many more, so I grew up hearing a literary Scots as well as spoken Scots in the village where we lived. I was also introduced by my father to the great songs of the travellers – Jeannie Robertson, Lizzie Higgins, the Stewarts of Blair, and also the wonderful songs and poetry of Hamish Henderson. So I learned to value Scots and its great heritage at an early age.
Any particular career highlights?
I have acted in many theatre productions of Scots language plays throughout my career as an actor, from Sir David Lindsay's great Ane Satyre of the Thrie Estaities, to modern translations of classics by Liz Lochhead, Edwin Morgan and Hector MacMillan. Playing the title role in Edwin Morgan's PHAEDRA at the Royal Lyceum in Edinburgh was a highlight for me – the language was sublime. I have written my own stage plays, poetry and songs in Scots, and audiences always respond with enthusiasm to the language, which gives me great pleasure. My book QUINES: POEMS IN TRIBUTE TO WOMEN OF SCOTLAND, which was launched on International Women's Day, 2018, includes poems in Scots, and has taken me to many communities and festivals, the length and breadth of Scotland, as well as to England and Italy, where the book will be published in Rome next year, in an Italian translation. My song 'Aye the Gean' was nominated for the Liet International song contest, 2108, in Leeurwarden, Friesland, Netherlands, for Europe's regional or minority languages, and won third prize in 2018: liet-international.com/and-the-results-are/
What are your plans for the future?
My plan is just to keep going with all the various collaborations I get involved in, as well as continuing with my own writing. I'm currently working on a book of short stories, some of which are in Scots (I write in both Scots and English), and on a second album of my own songs. I also want to write more poetry and plays. I'm up for acting and directing too!
Read more about Gerda Stevenson
http://gerdastevenson.co.uk
Facebook: https://www.facebook.com/gerdastevensonmusicandwriting/
Twitter: https://twitter.com/GerdaStevenson8
If you wish to attend the Scots language awards, tickets are available to buy via: https://www.ticketsglasgow.com/Pages/EventDetail.aspx?EventId=8fd8b867-811e-4bfc-a2c0-aab900efc42b For box office call 0141 353 8000 or email box@horsecross.co.uk. Performing on Friday 27th September include Iona Fyfe Trio, Susi Briggs, Steve Byrne and more to be announced.
If you would like to support Hands Up for Trad in their work with Scottish trad music and musicians please consider supporting our Patreon campaign. We have 3 tiers starting at $1 a month and everything helps support us in our work. Read more at www.patreon.com/handsupfortrad
This post is also available in: English