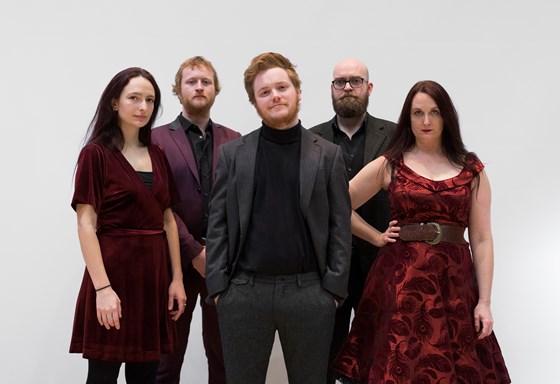 Shake The Chains is I' brain-bairn o' Greg Russel (Greg Russell and Ciaran Algar), fa conceived I' idea aifter scrievin his politics dissertation on I' role o' protest sang. I' project puuls thigither 5 mechty fine musicians fae a' the kinta ower; Tim Yates, Greg Russell, Nancy Kerr, Findlay Napier an' Hannah Martin. Wi abdy on boar singin, I' project linked I' sang Tradition o' Scotland an' England throw protest sang – an' fit a powerhouse o' a show it wis.
I' first sang I caught wis "Poison Apples", led b' Nancy, a sang which hid some giy catchy lyrics "just like a dream of the window steam at the Coffee Pot Café". Sam darn formidable an' strang vocals richt there! The neist sang wis led b' Hannah Martin, fa hid her first Glesca gig iver that nicht. Yarl's Wood wis a song Hannah wrote I' song for I' #setherfree campaign led by Refugee Woman. It's aboot Yarls Wood, an immigration removal centre in Bedfordshire, ane o 13 in' I UK. It's scrieved in I' perspective o' a refugee wimman fa his fleen her ain kintra, only tae enter Yarls Wood, a centre far rumours o' ill-treatment o' lassie detainees is rife. Affa poignant an' really maks ye think. The sang hid dark interludes gien b' Nancy on I' fiddle.
I' mood wis liftit a wee bitty in the neist sang, which wis led b' Findlay Napier. Fa's humorous introduction gied him braw rappor wi' his audience o'his adopted hame, Glesca. Some guid craic aboot Aviemore ina! Ding Dong Dollar, got I' hale audience singin', This wis ane o' I' sangs which I wis familiar wi. An' Findlay pit his pints across in a humorous bit engagin' wey. Bit my enjoyment o' I' sang wis cut short, fin they didn'a dee a' the verses an' missed oot on ane o the mair funnier pairts o' the sang!
"The Clyde is sure tae prosper noo they're here,
For their chargin' wan an' tenpecne for a beer
Aye an' when they want a taxi
They shove it up their jacksy
An charge them thirty bob tae Sangbank Pier."
The neist sang called EGA wis led b' Greg Russell. He scrieved it aboot Elizabeth Garrett Anderson, fa wis the UKs first qualified lassie doctor an' mayor. Greg his a lovely pure vice, an' is well acquainted wi' traditiona; sangs as weel as songs in I' songwriter genre. The sang hid a bonnie wee reel in I' middle providit by Nancy. (Also, her fiddle-singin at I same time is jist amazin' – foo dis she dee it?!) She then moves on tae sing a sang she wrote fir her mither, Sandra, called The Defiance of Mountains – she accompanies herself on guitar. She tells I' anecdote of findin' a photae o her mither, a true activist an' braw folksinger, singin' intae Fidel Castro's ear! Hannah Martin's viola adds some giy bonnie lines tae the sang. Nancy;s voice his beautiful control and her ornaments are deen sae effortlessly and flawlessly ina. Findlay showed a tender side fin he added sam fittin harmonies in I' rfrain. "Come restlessly, come to me".
Tim Yates offered a sang, called Side by Side, thit wis inspired b… Southpark – a sang wi' the short an shappy universal theme o "nae bein' a dick!". His voice hid a dark an' moody feel. Adby's harmonies fitted brawly. Findlay finished I' first half o' I' set wi Hamish Henderson's Freedom Come Aa' Ye – a sang thits argued tae be Scotland's unofficial national anthem, this finished aff the set nicely, wi a captivatin' instrumental pairt.
The neist half stairtit win ae introductions, fan the group rippit intae a lovely sang led by Nancy. It hid some affa cool rhythmic clappin interludes scattered atween I' sang. Nancy's vice is sae captivatin wi such beautiful glottal stops – a truly unique sound an' style. It ended wi an unaccompanied 5-pairt harmony chorus. Jist magical.
Findlay led on wi' a sang caa'd Building Ships – a sang aboot the Glesca shipyarids.
It mentions the workers fa died and fa were nae weel due to dust and asbestositis It mentions the logistical issues about reopenin the Shipyards and the issues thit the industry faced back in' the day. It mentions the unfair pey thit the shipwarkers shid be getting'. Fit really caught me aboot this sang is the hunting fiddle melody lines which serves as wee instrumentals. I thocht this wis the sang o the night for me. Findlay is a true wardsmith wi a proper lovely voice.
Hannah Martin then sung The Glory of the Sun, a sang which hid quite a different style tae it. Her ornaments an' vocal nuances hid a really bonny bluegrassy feel. Yon string's hid a soond thit reminded me o' the Americana/Bluegrassy soond o' Laura Cortese.
It wis then time fir special guest Karine Polwart tae sing. She cam oan and did a puckle o' sangs solo, an' gosh, a' wis jist aboot blawn awa wi' the sheer brilliance an' purity o' her vice. This wis I' first time I'd iver heard her sing in I' flesh. She's developed quite a bluesy feel tae her singin' an' his an affa fittin guitar accompaniment. My favourite een she did wis a sang she scrieved aboot Mary Brooksbank, a wiman fa wis an activist an' mill warker, born in AIberdeen bit brocht up in Dundee. An' the only wiman fa's wards are ane o 26 inscriptions inti the waa's o' the Scottish parliament. It referenced the Jute Mill Song an' wis affa affa cliver. "Oh Dear Me, the Warlds Ill dividit".
The band did a few mair nummers an' ended wi' an encore. We Shall Overcome hid abdy singin' in close harmony. They aa' sang inti the yin mic. Affa intimate an' god abdy singin' alang.
Am' impressed wi' aa' their Scots in Freedom Come A' Ye an' Ding Dong Dollar – again, seein abdy's versatility an' ability tae mould intae ither sang traditions an' styles – true folksingers. For a folksang project, I definitely think there cuid hae been mair audience participation, getting' abdy inti the sangs an' singin' by takin' mair time tae gie a chorus or twa in spoken ward? I wis in the mood for a braw singsong!
I' sheer versatility o' I' hale group shone through as abdy sung, an' played one or mair instruments. Hannah on I' banjo,viola an' guitar, Nancy on' fiddle an' guitar ina. It wis sae lovely to see each singer cam igither an' sing sangs they hae wrote or sangs fae I' revival, which deals wi' contemporary issues.
The wark o' yon group is current, thought-provoking an' profoundly important, bit pit across weel an' in a lighthairted an' at times humorous wey. The project tells stories o' real fowk, in a genuine, honest an' raw wey. I'd buy I' album an' see it aa' ower again.