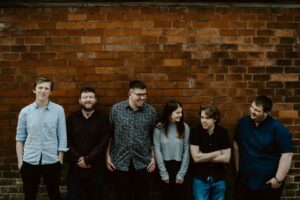 It's going to be an amazing night at the MG ALBA Scots Trad Music Awards on the 4th December 2022 in Caird Hall, Dundee. So many great performers and awards starting at 7pm. We would love to see you there. You can buy a ticket here.
One of our performers will be Trip. Read about them below.
TRIP are a Glasgow based six-piece band whose music unites the kindred Celtic traditions of Scotland, Ireland, Northumbria and the Isle of Man; a reflection of where each band member hails from.
Their powerful, driven and distinctive sound is underpinned by a versatile top-line featuring Accordion, Fiddle and Flute/Whistle and a dynamic rhythm section of Piano, Guitar and Bodhran. Their considered arrangements feature a blend of traditional melodies and self-penned tunes and songs, and celebrates the band's roots in traditional music, whilst showcasing their contemporary, cross-genre influences.
The impressive line-up features Newcastle accordionist Michael Biggins (BBC Young Traditional Musician of the year 2021), Sligo flautist Tiernan Courell (All-Ireland champion) and Manx fiddler Isla Callister with fellow Scots Alasdair MacKenzie (guitar and voice), Rory Matheson (piano) and Craig Baxter (bodhran).
A Drop for Neptune, the debut album from TRIP, is a culmination of four years of musical kinship that started on the traditional music scene in Glasgow, when the band members began studying at the Royal Conservatoire of Scotland. The record, which was written during a time of uncertainty and isolation that was brought about by the global pandemic, was inspired by the sea – something that connects and shapes us all.
Having performed all over the UK, including internationally acclaimed festivals such as Celtic Connections, Orkney Folk Festival and HebCelt, TRIP have been successful in taking their music to a global audience (Sligo Live, Viljandi Folk Festival and Festival Interceltiquede Lorient). In 2018, they were also semi-finalists in the BBC 2 Young Folk Awards.
Find out more about Trip
Bands performing on Sunday 4th December include Elephant Sessions, Fara, Trip, Eryn Rae Trio, The Auldeners, Gordon Shand Scottish Dance Band, Irish Minstrels, Tayside Young Fiddlers, and a James Alexander Tribute. If you can't make it along to Dundee, you can watch the show from 9pm GMT in the UK on BBC iPlayer or internationally at www.bbc.co.uk/bbcalba