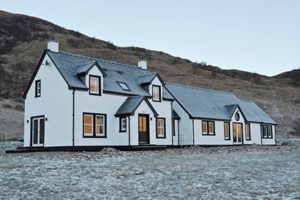 Congratulations to Watercolour Music who have been nominated in Studio of the Year in the MG ALBA Scots Trad Music Industry Awards 2019. Vote now!
We asked Nick Turner of Watercolour Music the following questions.
Tell us about yourself
Watercolour Music is a purpose-built Protools platform studio set in the heart of the West Highlands, looking across Loch Linnhe to Ben Nevis. The company celebrates 25 years in Lochaber this year, and its 10th anniversary in the current location. Watercolour was designed by resident engineer-producer Nick Turner, with a particular eye to capturing live, acoustic performance 'on the floor', and benefitted from the expert input of grammy-winner Jerry Boys (Buena Vista) in the final finessing of the space. A large live room with two separate recording areas attached give perfect sightlines and make use of natural wood and stone for a warm ambience reminiscent of the original studio space in Ardgour Home Farm, while natural light and inspiring views help create a unique recording space. The studio has warm, comfortable accommodation for 8 attached, although it has easily taken care of up to twice as many on some special sessions! The main studio space also converts to an intimate venue for audiences of up to 60.
Watercolour has played host to everything from grime to baroque, trad to hard rock and its enviable client list includes Ethan Johns, Fiddlers Bid, Jerry Boys, Julie Fowlis, Skipinnish, Damaged Goodz, Mount Desolation, Skerryvore, John Renbourn, Cliar, Outlander and many more.
And here's the geek-speak!
Recording
Pro Tools 2018.12 via SSL Alphalink SX; Cubase 9.5 DAW ; 20 Channel Neve Analogue desk with EQ; Yamaha 02R96 digital mixing console; VST and AAX Library inc. Waves, Avid & SSL.
Microphones
Neuman; AKG Electrovoice; MBC; CAD; Manley; Sony; Sennheiser; Shure Schoeps; Groove Tubes; Octavia Blue ; Soundfield etc.
Monitoring and Mastering
Tannoy SRM10B; Genelec 8030a Nearfield KRK 10S Subwoofer ; Quad520f TFPro 38 Analogue Compression; Direct to Disc via SSL with plug-ins from Waves; Saturated Fat; TC Electronics; Tascam DA30 DAT; Tascam 122 v2 Philips/ Newmark CD, Sony MD
Outboard
Neve 20 Ch EQ; DBX and Klark Teknik Compressors; TFPro 38 Master Compressor; Klark Teknik Graphic; TLA Valve pre-amps; Focusrite Green Pre Amps and Compression;Yamaha RX reverbs; Yamaha REV 7; Lexicon VST plug-ins from SSL Duende, Waves, TC Electronics etc.
Why are you involved in Scottish music?
Music has been part and parcel of life for the two directors of Watercolour Music – Nick Turner and Mary Ann Kennedy. Nick's first recording gig was 50p from his mum to record his dad at night to prove he snored. He's never looked back.
Any particular career highlights?
Watercolour isn't really about highlights, as every session matters, but since you twist our arm, they might include:
Recording the soundtrack for the STMA winning BBC series, 'Aig Cridhe ar Ciùil'
Co-creating 'Aiseag – The Ferryboat' for the 1st PRSforMusic New Music Biennial
Creating and recording the Glasgow soundworld for Mary Ann's current album, 'Glaschu – A Hometown Love Song'
Taking the studio on the road as artist-in-residence for Aberdeen Music Hall and the ØY Festival in Papa Westray, Orkney
What are your plans for the future?
Continuing to develop the studio space, keeping pace with technology and industry standards, and working with new clients and long-time friends alike. And introducing those new, unsuspecting musicians to Nick's 'special' sense of humour.
Read more about Watercolour Music
http://www.watercolourmusic.co.uk
Facebook: http://www.facebook.com/watercolourmusicuk
Twitter: http://www.twitter.com/Watercolour_UK
Instagram: http://www.instagram.com/watercolourmusic
The results of the MG ALBA Scots Trad Music Industry Awards will be announced the week of 2nd December online at http://www.scotstradmusicawards.com.
If you wish to attend the final ceremony, tickets are are priced £25 (+ Booking Fee), and Concessions are available. To book please call Aberdeen Music Hall Box Office on 01224 641122, or visit: https://www.aberdeenperformingarts.com/whats-on/all-shows/the-mg-alba-scots-trad-music-awards/2734. Bands performing on Saturday 7th December include Skerryvore, Session A9, Benedict Morris (BBC Radio Scotland Young Traditional Musician Award Winner 2019), Heisk, Aberdeenshire Youth Band, Sian, Robyn Stapleton, Mairi Campbell and the Pendulum Band, Susan MacFadyen Scottish Dance Band and more to be announced. There will also be a late night ceilidh after the Awards till 1am.
If you would like to support Hands Up for Trad in their work with Scottish trad music and musicians please consider supporting our Patreon campaign. We have 3 tiers starting at $1 a month and everything helps support us in our work. Read more at www.patreon.com/handsupfortrad