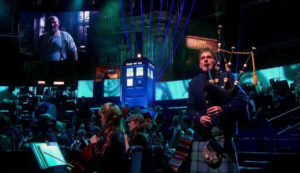 Congratulations to Lorne MacDougall who has been nominated in Session Recording Musician of the Year in the MG ALBA Scots Trad Music Industry Awards 2019. Vote now! Vote now!
We asked Lorne MacDougall the following questions.
Tell us about yourself
I'm a bagpiper and whistle player from Carradale, Kintyre based in Glasgow.
Over the years I've been lucky enough perform and record with a wide range of artists in the Scottish music scene from the very trad Tannahill Weavers to the very different Red Hot Chilli Pipers.
I released my first solo album "Hello World" in 2010 and have performed on many trad albums since.
I've also been fortunate enough to build good connections in the mainstream recording network and built up good relationships with composers, orchestrators and contractors so regularly get calls to work on big projects such as movies and sessions with pop artists.
Why are you involved in Scottish music?
My parents sent me to piping lessons. Though I didn't enjoy it at first. Piping seemed a very lonely hobby at the time, but once I realised I could make music with other people my passion for it really rocketed!
I began with a focus on solo piping, which really isn't my thing. My tutor, Ian McKerral, lent me some albums. They were "Just for Seamus" from Gordon Duncan and "The Broken Chanter" by Fred Morrison. That's when I realised what I wanted to do with pipes.
Any particular career highlights?
Watching a production I've played a small part in is always a real buzz. This year has been great with "How to Train Your Dragon – The Hidden World" being released. It's a thrill to be working so closely with such respected composers who listen to my thoughts and advice.
I was asked to arrange the "Still Game" theme for pipes as an addition to another piece for the show, which was tricky but we made it work – I didn't expect it to be used, but it was and it was the very last note!
I was back working with the Red Hot Chilli Pipers again for a new album which I did some playing on. That's really nice to be back as I "produced" the very first one back in 2007 for £50! It's a fresh and slightly more refined sound for the band and I love it!
I was working with Patrick Doyle at the start of the year again. He had written "Scottish Overture" which I performed at it's premiere in January at Celtic Connections. Again, its was a joy to be bouncing suggestions back and forth on how to use pipes best.
There's also something coming up later in the year that I'm particularly proud off, but I can't talk about it yet!
What are your plans for the future?
Album. It's been 10 years since the last one and ideas are really starting to distill in my head with some ideas falling off in favour of better ones.
Continuing to compose is a big thing, I've some big pieces in mind that I'm looking for outlets for.
Read more about Lorne MacDougall
http://www.lornemacdougall.com
Facebook: https://www.facebook.com/lornemacdoug/
Twitter: http://www.twitter.com/lornemacd
Instagram: https://www.instagram.com/lornemacdougallpipes/
The results of the MG ALBA Scots Trad Music Industry Awards will be announced the week of 2nd December online at http://www.scotstradmusicawards.com.
If you wish to attend the final ceremony, tickets are are priced £25 (+ Booking Fee), and Concessions are available. To book please call Aberdeen Music Hall Box Office on 01224 641122, or visit: https://www.aberdeenperformingarts.com/whats-on/all-shows/the-mg-alba-scots-trad-music-awards/2734. Bands performing on Saturday 7th December include Skerryvore, Session A9, Benedict Morris (BBC Radio Scotland Young Traditional Musician Award Winner 2019), Heisk, Aberdeenshire Youth Band, Sian, Robyn Stapleton, Mairi Campbell and the Pendulum Band, Susan MacFadyen Scottish Dance Band and more to be announced. There will also be a late night ceilidh after the Awards till 1am.
If you would like to support Hands Up for Trad in their work with Scottish trad music and musicians please consider supporting our Patreon campaign. We have 3 tiers starting at $1 a month and everything helps support us in our work. Read more at www.patreon.com/handsupfortrad