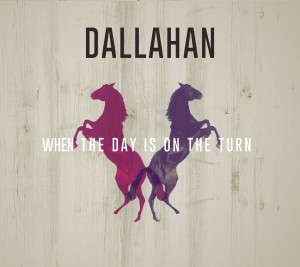 Congratulations to Dallahan who's album When the Day is on the Turn has been nominated in Album of the Year (sponsored by Birnam CD) in the MG ALBA Scots Trad Music Awards 2015. Vote now!
We asked Dallahan about their album When the Day is on the Turn.
This is the critically acclaimed debut album from Dallahan. Music rooted in the Celtic tradition with flavours of funk, bluegrass, and Eastern European music.
"Some of the most exciting trad musicians to emerge in recent years" BBC Radio 2
"this is truly something special…Dallahan call on their mixed Irish, Scottish and Hungarian heritage to create a unique and seamless musical montage that is as exciting as it gets."
Folk Radio UK
"They play the most exciting Irish music I've heard in a long time…Lunasa for the new generation"
fRoots
"a prize winning combination, Dallahan clearly have a promising future ahead."
Songlines
About Dallahan
Since launching the band in December 2013, Dallahan have exploded onto the traditional music scene. Their unique arrangements of original music and traditional Irish tunes and songs have secured their presence at such prestigious international events as Milwaukee Irish Festival in the USA, Copenhagen Irish Festival and Celtic Connections. Dallahan met each other through local sessions in Edinburgh and they are established performers of various musical styles from classical and jazz to Balkan and Celtic. The members of the band have toured extensively with groups as diverse as Kalman Balogh's Gypsy Cimbalom Band, Larsa, Fianna, Samling, Tcha Limberger and they regularly appear at festivals and venues both in the UK and internationally. As individuals, they have received various awards; Paddy won the 'BBC Young Traditional Musician Of The Year Award 2013', Ciaran won the title of 'All Britain Banjo Champion' in 2006, Jani won 1st prize at the first 'Hungarian Traditional Music Competition' and Jack was recently a finalist in the 'BBC Young Traditional Musician Of The Year Award 2014'. As a band, they received an 'Emerging Excellence Award' from Help Musicians UK, were nominated for Best Up and Coming Artist of the Year at the Scots Trad Music Awards 2014 and have recently collaborated with the RSNO. Dallahan is a breath taking musical journey delivered by award winning musicians that is as much fun to listen to as it is to play.
Dallahan website: http://www.dallahanmusic.com
You can listen to When the Day is on the Turn here.
Buy a ticket for the MG ALBA Scots Trad Music Awards on Saturday 5th December in Dundee Caird Hall, start time 7pm. You'll have a great time!