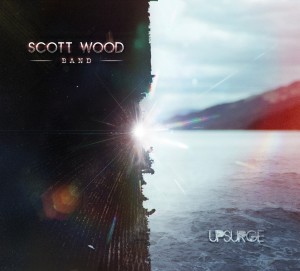 Congratulations to Scott Wood Band who's album Upsurge has been nominated in Album of the Year (sponsored by Birnam CD) in the MG ALBA Scots Trad Music Awards 2015. Vote now!
We asked Scott Wood Band about their album Upsurge.
Released on Oak Ridge Records, Upsurge was recorded in February 2015 during a 5 day residential at Castlesound Studios, Scotland. Containing primarily their own Scottish styled compositions, influences of Jazz, Pop, Rock and World can be heard throughout, and a new sound for the bagpipes has been identified. Producer, Calum MacCrimmon (Breabach and Man's Ruin), insisted on recording the album in a live setting, to capture the raw performance energy of the band. Virtuoso Electric Guitarist Davie Dunsmuir lay down a awe-inspiring solo on the track 'McCready's', and a string quartet of Classical/Folk musicians enriched 3 tracks on the album. Scott travelled to Ann Arbor, Michigan to witness the record be mixed by one of his biggest idols and sonic mastermind, Tyler Duncan (the olllam, Ella Riot).
About Scott Wood Band
Much has changed since their formation as a trio in 2012. The Scott Wood Band have embraced their musical and personnel change, and created their ground-breaking debut album. With bagpipes and fiddle in the fore, the band offers flavours of Jazz, Pop, Rock through their energetic live show.
Described as "a collaboration of the most promising young Scottish Musicians", and fronted by one of the world's leading young bagpipers, the band features finalists from the BBC Young Traditional Musician of the Year and BBC Young Jazz Musician of the Year competitions. Their success was also recognised with a nomination for the prestigious 'Folk Band of the Year' category at the 2014 BBC MG ALBA Scots Trad Awards.
They have collectively toured the world with bands such as: Mànran, Wolfstone, Skerryvore, Rura, The Mischa MacPherson Trio, Fat-Suit and the Red Hot Chilli Pipers, and band's large and diverse following has already seen them entertain at many major festivals throughout the UK and Europe.
Scott Wood Band website: http://www.scottwoodband.com
You can listen to Upsurge here.
Buy a ticket for the MG ALBA Scots Trad Music Awards on Saturday 5th December in Dundee Caird Hall, start time 7pm. You'll have a great time!