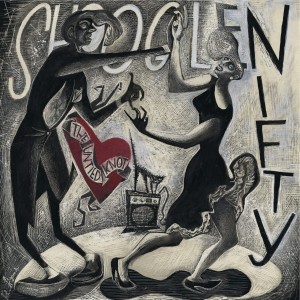 Congratulations to Shooglenifty who's album The Untied Knot has been nominated in Album of the Year (sponsored by Birnam CD) in the MG ALBA Scots Trad Music Awards 2015. Vote now!
We asked Shooglenifty about their album The Untied Knot.
This is Shooglenifty's seventh studio album, and the first to feature a collection of songs. The breathtaking 'puirt a beul' (mouth music) of Gaelic vocalist Kaela Rowan brings a captivating and energising new element to the band's sound, and further confounds any attempt to categorise them.
The Untied Knot drops additional pins in the Shoogles' map of international influences, this time hitting the road from Scotland to Rajasthan. Watch out for James Mackintosh and Kaela Rowan's The High Road To Jodhpur, a tune that makes that connection explicit, whilst Burns's Tam o'Shanter is the 'closer to home' inspiration for the title track by Quee MacArthur.
Former band member Luke Plumb's fresh compositions – the psychedelic Arms of Sleep and The Highway Carpark, a 'hurry up and wait' classic – are included, whilst new mandolin player Ewan MacPherson makes his mark with three tunes. His Somebody's Welcome To Somewhere, features the princely pipes of a guesting Ross Ainslie. Ewan also contributes a dark nautical romp The Devil's Breath Hornpipe, and speedy pair of reels clearly spawned by the Shoogle dance gene: Samhla Reel/Scolpaig.
A dazzling contribution by Garry 'Banjo' Finlayson, The Scorpian (sic) is a fascinating and enigmatic creature, whilst Fitzroy's Crossing, the striking Antipodean closing track by Shooglenifty front man Angus R Grant, is proof positive that there is no musical journey this band can't take.
About Shooglenifty
Shooglenifty were one of the taste-makers and boundary-breakers of the Scottish trad music scene of the 90s and were one of the acts that helped give Scotland a powerful voice on the world music scene, from the early days right up to the present day. Venus in Tweeds remains one of my all-time classic albums and it always delights me to know that the legendary Grant fiddlers – Aonghas and Angus R. – can count one of Gaeldom's ultimate tradition bearers and one of the Shoogle creators of 'acid croft' as father-and-son. Just as it should be – roots and futures as one.
Mary Ann Kennedy
Musician and broadcaster
Shooglenifty invented a totally new and spellbinding way of playing ultimately Highland music as a modern groove-based entity. Along with Martyn Bennett they transformed this ancient music with respect and vision. 25 years on they continue to blaze a trail of 'acid-croft' that no others can touch.
Aidan O'Rourke
Lau
Shooglenifty's sound springs from traditional Scottish dance music, energised by the beats and bass line of something altogether more contemporary. It is not a sit-down kind of music, it's a join-in, and get on your feet kind of vibe. Attempts to describe this almost uncatagorisable band include: 'hypno-folkadelic-ambient-trad' and 'Acid-Croft', which derives from late 1980s club music 'Acid House', a croft being a traditional Scottish rural dwelling.
This pioneering band is in demand all over the world and the guys have entertained at festivals and venues in Australia, Canada, India, Japan, Lebanon, Malaysia, Russia, the United States and, of course, Europe. Previous career highlights include performing for Nelson Mandela and Emperor Akihito of Japan (not both at once), performing with dhol drummers of Rajasthan at the Commonwealth Games in Glasgow, inciting the crowd to a stage invasion at Sydney Opera House, and collaborating with Lebanese musicians in Beirut.
Shooglenifty was formed in Edinburgh 25 years ago at the height of the late 80s/early 90s electronic dance music scene, and the vibe of that time is a key influence on their sound. Their latest album The Untied Knot , released in 2015 is the first to feature song, for the most part supplied 'puirt a beul' vocalist Kaela Rowan, but watch out for other members of the band showing off their vocal abilities.
Shooglenifty website: http://www.shooglenifty.com
You can listen to The Untied Knot here.
Buy a ticket for the MG ALBA Scots Trad Music Awards on Saturday 5th December in Dundee Caird Hall, start time 7pm. You'll have a great time!