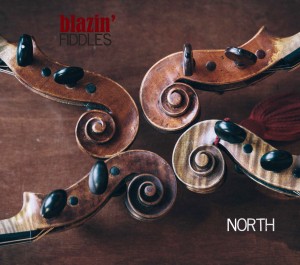 Congratulations to Blazin' Fiddles who's album North has been nominated in Album of the Year (sponsored by Birnam CD) in the MG ALBA Scots Trad Music Awards 2015. Vote now!
We asked Blazin' Fiddles about their album North.
During our annual fiddle school Blazin' in Beauly we started a fundraising auction of our most recent compositions. Each one of us wrote something and the naming rights were put up for grabs. It got very competitive between participants. Tunes from Kristan, Anna, Angus and Bruce have all been included on this album, all named by folks who bid for the tunes.
All the material was put together in Angus Lyon's studio down near Biggar in a pre production phase about three months before the recording. This allowed us all to go home, listen to the parts, arrange any harmonies and play ourselves in to the stuff. Very little of it had been played live to an audience before so this was vital in getting the right feel. The album was recorded over three days, as live, in Castlesound studios in Pencaitland.
The tunes on North range from classic airs by such 18th century composers as William Marshall through to modern compositions by the great Chicago fiddler Liz Carroll. The album opens with a tremendous tune written by Shetlander Jenna Reid 'Shetland Night in London' which must have been some night considering the wildness of the tune. There are also tunes from Scandinavia, Ireland and ancient old Island reels (which seems appropriate as this is the first time there have been two islanders in the band – Jenna, from Shetland, and Kristan from Orkney).
Another tune called the 'Cambridge Caravan Catastrophe', was written in the bands wilder days. Invited down to the Cambridge Folk festival in 1999 the band was given a back stage caravan for the weekend. They then held the biggest, wildest ceilidh ever seen at the festival resulting in the caravan failing the rigours of a strip the willow and collapsing around their ears!
All of that creativity, musical skill, hedonism and energy has been put into the new album North, which will be launched in October. For the players, aspiring musicians and those wanting an Internet dimension, the band has done teaching videos on YouTube, using many of the tunes from the new album
About Blazin' Fiddles
Take a group of the hottest contemporary fiddle players from the Highlands and Islands of Scotland, mix with some wonderfully sympathetic piano and guitar arrangements and you've got the award winning Blazin' Fiddles on your hands. And they are Blazin', in the past decade no other band has quite captured Scottish fiddle music's variety, energy and sensitivity like Blazin' Fiddles have. Like rare single malts, each member of Blazin' Fiddles draws the distinct flavour of music from their part of the Highlands and Islands. Blending solo and ensemble sets, aged with the occasional insightful tale, they all come together in a fiery blend to excite your senses. From remote village halls to the BBC Proms at the Royal Albert Hall, fiddlers Jenna Reid, Bruce MacGregor, Rua Macmillan and Kristan Harvey are joined by Anna Massie on guitar/fiddle and Angus Lyon on piano to deliver a musically intoxicating evening for all.
Blazin' Fiddles website: http://www.blazinfiddles.com
You can listen to North here.
Buy a ticket for the MG ALBA Scots Trad Music Awards on Saturday 5th December in Dundee Caird Hall, start time 7pm. You'll have a great time!