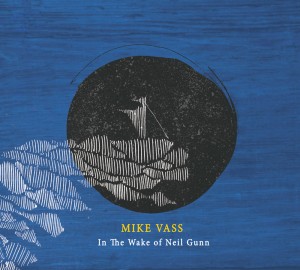 Congratulations to Mike Vass who's album In the wake of Neil Gunn has been nominated in Album of the Year (sponsored by Birnam CD) in the MG ALBA Scots Trad Music Awards 2015. Vote now!
We asked Mike Vass about their album In the wake of Neil Gunn.
In 1937, Neil Gunn quit his job at the Customs Office in Inverness to pursue his writing career full time. The first thing he did was to sell his house and buy a boat in the North of Skye. He spent a summer sailing Scotland's beautiful West Coast, seeking inspiration for his writing. The following year his account of the trip, 'Off in a Boat', was published.
As one of the greatest writers to emerge from the Scottish Renaissance, Gunn's contribution to literature is widely celebrated. 'Off in a Boat' offers an engaging insight into the development of his creative exploration.
I read the book whilst recovering in hospital from a serious case of Neuroborreliosis – late stage Lyme disease that affects the central nervous system. After finishing the book I determined that, when I was fit again, I would recreate Gunn's trip by sailing his route round the West Coast. I was interested to see whether such a trip could provide for me what it had for Gunn: creative inspiration. 
I spent some time in the School of Scottish Studies Archives prior to the trip, researching music specific to each of the ports; all the while imagining that Gunn may have heard these songs on his own travels. 
In May 2014 I set sail from Portree with a small crew and was lucky enough to be joined by musicians at ports along the way. I shared with them the old music I had found, and they lent their hands to knot-tying as eagerly as they did to late-night sessions. Making music on board, watching the stunning coastline of Scotland slip by from one of the most privileged view points on Earth, is something I will never forget. 
The music on this record is intimately inspired by Gunn's voyage and writing of 1937, and, having made the trip myself, it is inescapably the story of my own reflections. It is a journey of recovery and discovery, and one I hope you will enjoy. The music on this recording features found sound (samples) recorded on my trip, as well as live instruments captured later in the studio. 
About Mike Vass
Scottish composer-musician Mike Vass fuses traditional instrumentation with classical and electronic sounds to create a unique style. Since his first solo album String Theory in 2010, described by one critic as an "…elegant craftsmanship by a master of the contemporary Scottish music scene " (Scots Magazine), Mike's reputation as a composer, arranger and performer has grown solidly.
His follow up album DecemberWell received praise from various publications including The Financial Times, The Independent and The Irish Times and led to him being awarded the prestigious Composer of the year Award at the 2012 MG Alba Scots Trad Music Awards.
With a background in Scottish traditional music, he regularly performs with some of Scotland's finest musicians, including Kathleen MacInnes, Fiona Hunter and Innes Watson. He's performed with some of Scotland's most exciting ensembles, including; Scottish folk pioneers Battlefield Band, The Paul McKenna Band, international fiddle super group Fiddle Rendezvous, featuring Bruce Molsky and Gerry O'Connor and Scotland's leading folksong quartet Malinky.
Mike composed and performed the score for Gavin Robinson's Scottish Bafta winning animation 'Hart's Desire' and in 2013 was commissioned by Amble Skuse's Remembered Imagined to compose music for a multi-art form piece After Niall Sgrob, collaborating with writer Charlotte Hathaway, Gaelic singer Maeve Mackinnon and Scottish writer and actor Angus Peter Campbell. 2014 saw the premiere of his piece 'Away Being' a piece for Edinburgh Youth Gaitherin's big band commissioned by Jan Bee Brown and the Thrive Archive to accompany an exhibition inspired by a series of photographs by Ian Paterson and John Maher.
Whilst recovering from a short but serious illness in 2013, Mike read Neil Gunn's Off in a Boat describing Gunn's sailing experiences around the west of Scotland. Last year Mike retraced Gunn's route and composed the suite In the wake of Neil Gunn receiving widespread acclaim for the album and live show, touring around the Highland and Islands, and at the 2015 Celtic Connections festival. The album was included on the Scottish Album of the Year (SAY award) long list in 2014.
Mike Vass website: http://www.mikevass.com
You can listen to In the wake of Neil Gunn here.
Buy a ticket for the MG ALBA Scots Trad Music Awards on Saturday 5th December in Dundee Caird Hall, start time 7pm. You'll have a great time!