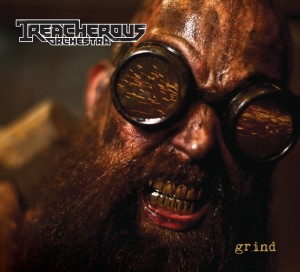 Congratulations to Treacherous Orchestra who's album Grind has been nominated in Album of the Year (sponsored by Birnam CD) in the MG ALBA Scots Trad Music Awards 2015. Vote now!
We asked Treacherous Orchestra about their album Grind.
"TREACHEROUS
 ORCHESTRA
 does
 have
 a
 full
 on,
 intense
 'live'

sound"
 agrees
 bagpiper,
 whistle
 player 
and 
co‐producer 
Ali
Hutton
 "and
 we
 wanted
 to
 try
 and
 recreate
 that
 intensity
 and
 power
 on
 the
 new
 album.
 Studio
 performances
 can
 often
 be
 tamed
 down
 because
 of
 the
 environment
 in
 which
 you
 are
 recording.
 We
 tried
 hard
 through
 the 
studio 
process
 to 
capture 
the 
live 
edge 
associated 
with 
the 
band."



"The
 new 
album
 'Grind' ", 
says 
accordionist 
John
Somerville, 
"is 
almost
 a 
journey 
in
to
the 
band's 
subconscious. 
We 
wanted 
to 
allow
 a 
natural
 progression 
from
 the 
last
album 
and 
without 
any 
real 
pre‐determined
 musical
 decision
 on
 direction
 the
 new
 material
 seemed
 to
 take
 on
 a
 darker
 more 
industrial 
edge.



"The
 image
 of
 the
 blacksmith
 is
 a
 potent
 one.
 It
 represented
 for
 us
 this
 idea
 of
 industrial
 vitality.
 Someone
 that
 forges
 products
 in
 a
 hot,
 sweaty
 environment.
 Lots
 of
 drive,
 movement,
 sparks,
 ignition,
 heat.
 We
 wanted 
these 
concepts 
to 
feed
 in
to 
our
music 
and 
the 
new 
band
 image."




Ali
 Hutton
 adds
 "Like
 the
 Blacksmith,
 we
 all
 came
 from
 rural
 backgrounds
 to
 dwell
 in
 the
 city,
 which
 helped
 our
 musical
 styles
 to
 evolve,
 individually
 and
 as
 a
 band!
 The
 idea
 of
 someone
 that
 works
 hard,
someone
 that's 
creative,
that 
forges 
mentally 
and
physically.
 We
 feel
 like
 this
 symbolises
 the
 ideals
 behind
 the
 band.
 
I
 think
 this
 is
 strongly
 reflected
 here.
 There
 are
 a
 lot
 of
 tracks
 that
 evolve
 from
 a
 very
 acoustic,
 natural,
 atmospheric
 vibe
 into
 hard
 hitting
 industrial
 grooves.
The 
forging 
of 
ideas, 
of
sounds, 
of 
musical 
thoughts!!



"The
 first
 track
 is
 meant
 to
 reflect
 a
 world
 where
 times
 were
 a
 lot
 simpler,
 before
 the
 industrial
 era,
 before
 the
 grip
 of
 technology.
 It's
 supposed
 to 
portray 
a 
time 
when 
our
minds 
were 
allowed 
to 
think 
for
 themselves,
 before
 we
 were
 told
 how
 we
 were
 supposed
 to
 live
 and
 think!
 It's
 supposed
 to
 reflect
 the
 natural
 world,
 the
 rural
 areas,
 civilisations
 of
 old,
 an
 era
 of
 free
 thinking.
 This
 then
 introduces
 industrial
 sounds
 throughout
 the
 rest
 of
 the
 album
 to
 highlight
 the
 change
 in
 technology,
 the
 progressive
 nature
 of
 the
 world
 and
 it's
 creatures.
 It's
 a
 structure
 we've
 used
 on
 the
 opening
 tracks,
 Banger,
 
Grind
 and
 Numbers,
 'what
 was
 and
 what
 is'.
 The
 whole
 album
 is
 a
 journey
 from
 past
 to
 present,
 highlighting
 good 
times, 
hard 
times, 
and 
looking 
to 
a
brighter 
future. 
This 
reflects 
our 
current 
situation 
as
 a 
nation.

"The
 main
 goal
 with
 this
 album
 was
 to
 establish
 a
 very
 identifiably
 Scottish
 sound.
 For
 us
 to
 portray
 our
 national
 identity,
 and
 social
 and
 musical
 history
 through
 our
 music.
 We
 want
 people
 to
 listen
 to
 it
 and
 have
 a s
ense 
of 
being. 
We
 want 
it to 
conjure 
feelings
of
 pride 
for 
what 
we 
have 
accomplished 
as 
a 
nation,
 and
 what
 we've
 been
 through
 to
 reach
 the
 point
 we're
 at
 now…
 A
 nation
 of
 proud,
 forward
 thinking
 beings!"

On
 stage
 the
 players
 are
 hugely
 entertaining,
 mixing
 their
 original
 tunes
 up
 with
 theatrical
 anarchic
 rock
 attitude.
 Here
 is
 a
 band
 that
 is
 playing
 at
 the
 next
 level,
 technical
 and
 impressive,
 yet
 impossibly
 raw,
 whose
 shows
 are
 always
 vital
 and
 make
 the
 audience
 feel
 truly
 alive
 in
 the
 moment.
 A
 Treacherous
 Orchestra
 gig
 is
 quite
 unlike
 anything
 else.
 The
 players
 set
 a
 true
 musical
 course
 that
 continues
 to
 build
 and
 build.
 Through
 their
 music
 the
 band
 take
 the
 listener
 on
 a
 journey
 through
 many
 moods,
 emotions
 and
 tempos 
often 
within 
moments!

Of
 the
 new
 tunes
 included,
 fiddler
 Innes
 Watson
 says
 "These
 were
 all
 written
 individually
 and
 slowly
 perfected
 over 
the 
past 
two
 years 
or
 so.
Each 
track
 starts 
with
something 
very 
simple, 
the
 bare bones 
of 
a
 tune.
 A
 melody
 intact,
 riddled
 with
 thousands
 of
 possibilities.
 Think
 of
 each
 track
 as
 a
 perfectly
 formed
 object
 from
 the
 smithy
 and
 the
 melodies
 as
 chunks
 of
 metal.
 We
 melt
 them
 down,
 shape
 a
 mould,
 meld
 them,
 shape
 them,
 Grind
 them,
 braze
 them,
 solder
 them,
 weld
 them,
 add
 leather,
 wood,
 plastics,
 bells
 and
 whistles.
 We
 galvanise
 them
 and
 polish
 them.
 It
 takes
 time,
 many
 different
 processes
 and
 some
 serious 
sweat 
and
 blood."
"The
 liveliness
 of
 the
 stage
 show"
 says
 bassist
 Duncan
 Lyall,
 "is,
 undoubtedly,
 one
 of
 the
 bands
 strong
 suits.

The
 density 
of 
the 
arrangements 
make 
it 
a 
bigger 
challenge 
to
capture 
effectively 
in 
the 
studio.

The
 playing 
needs 
to 
be 
precise 
for 
the 
different 
layers
to
 work 
together.

It 
can't
 all 
be 
brute 
force,
there
 has
 to
 be
 finesse.
 
I
 think
 one
 of
 the
 things
 we
 did
 right
 was
 to
 aim
 for
 faster
 tempos.
 Some
 of
 the
 best
 live
 recordings
 we
 have
 are
 of
 the
 band
 playing
 fast
 and
 precise.
 
When
 we
 play
 live
 the
 adrenaline
 kicks
 in
 and
 the
 juice
 comes
 through
 in
 the
 music.
 

Recording
 the
 tunes
 at
 these
 faster
 tempos
 meant
 everyone
 had
 to 
dig
 deep
 and 
find 
the 
fire 
that 
comes 
naturally 
when 
we
 play 
live.

 When
 all 
else 
failed" 
he 
chuckles
 "whisky
 seemed 
to
 do 
the 
trick.


"One
 of
 the
 most
 enjoyable
 days
 we
 had
 during
 the
 recordings
 was
 spent
 at
 the
 Hamilton
 Mausoleum
 (just
 outside
 of
 Glasgow).
 
Until
 recently
 the
 Mausoleum
 held
 the
 world
 record
 for
 the
 longest
 echo
 in
 a
 man
 made
 structure.
 It's
 about
 15
 seconds.
 
We
 took
 some
 microphones
 and
 a
 few
 bits
 of
 studio
 kit
 and
 recorded
 accordion,
 two
whistles 
and 
two 
fiddles
 live.
On
 the
 title
 track
 'Grind' 
there 
are
 two 
tunes 
played
 together.

 We
 wanted 
to 
create 
different 
spaces 
for 
the 
two
 tunes
 for
 a
 really
 deep
soundscape.


 Rather
 than
 just
 add
 some
 reverb
 in
 the
 studio
 we
 recorded
 the
 slower
 tune
 in
 this
 building.
 
It
 was
 a
 bit
 of
 an
 experiment
 but
 from
 the
 moment
 we
 opened
 the
 door
 and
 played
 a
 few
 notes
 in
 there
 we
 knew
 it
 was
 going 
to
 sound
 great.

 The
 whole
day
 was
 an 
incredible 
experience."
A
 product
 of
 the
 recent
 renaissance
 in
 Scottish
 folk
 music,
 Treacherous
 Orchestra
 are the
 ultimate
 eleven‐piece,
 pan‐Scottish
 outfit
 (with
 one
 member
 from
 Ireland).
 It's
 an
 aggregation
 that
 came
 together
 in
 the
 musical
 melting
 pot
 that
 is
 Glasgow,
 a
 location
 where
 the
 individual
 musicians
 first
 developed
 a
 strong
 affinity
 for
 each
 other's
 playing.


"Every
 time
 this
 specific
 crowd
 of
 instrumentalists
 got
 together"
 John
 says,
"musical
sparks
 would 
fly".
This 
musical
 empathy,
 and
 their
 passion 
for
 high‐energy, 
innovative
 and
 evolving
 styles
 of
 playing,
 first
 came
 to
 recorded
 fruition
 in
 the
 exuberant
 sounds
 produced
 on
 their
 début
 album
' Origins' 
(Navigator) 
and
 now 
fully
 explored 
on 
the
 new
release
' Grind'
 (Reveal).


Each 
member
 of
 the 
band 
brings 
a
 strong
 individual
 sound
 and
 instrumental 
style 
to
this 
powerful 
blending
 of
 the
 old
 with
 the
 new.
 
In
 addition,
 many
 of
 the
 group
 are
 also
 gifted
 composers,
 producers
 and
 engineers
 in
 their
 own
 right
 and
 it
 is
 these
 cumulative
 talents
 that
 set
 the
 band
 apart
 in
 terms
 of
 forging
 their
 own
 unique
interpretation 
of 
Scottish
 music.


The recording of this album was possible with the help of Creative Scotland.
About Treacherous Orchestra
The Treacherous Orchestra story is one of many strands, a tale told spanning the length and breadth of Scotland. An un-definable collective force fusing people, concepts, styles and influences, shaping a musical supergroup that defies description. From the North to the South, East to the West they came, converging in the musical melting-pot of Glasgow, trading ideas over beers and playing music with ferocity, verve and passion. This is a tale of musical origins…
These roots and strands – the essence of the band – are the stories of the members themselves, all emerging from their own musical habitat and adding their own distinctive identity. The band is composed of seasoned musicians who are already treading notable paths and reaching international recognition with other bands as performers, arrangers and composers. Those bands that have gone before them, the likes of Martyn Bennett's Cuilinn Music, Wolfstone, Peatbog Faeries, Shooglenifty and Salsa Celtica tell the tale of a country full of bright musical minds, ideas, innovation and evolution. It is a tale that continues with the rise of this epic Orchestra.
The sleepy region of Perthshire is where the first chapter unfolds. Unbeknown to them at the time, two young instrumentalists of the local scene were gaining notoriety as the fiercest young pipers of their generation. Ali Hutton and Ross Ainslie sat in a small cottage, fire crackling, eyes and ears transfixed by the learnings of one of the true master composers and instrumentalists of the 20th/21st century, the late Gordon Duncan. His style flowing from finger to finger trickled down and infused these two young protégés with a style and sense of harmony, rhythm and composition that no one else can claim to possess.
His passing away in 2005 left the legacy of his music and his influence will never be forgotten. Ross and Ali have since gone on to be heralded as individual instrumentalists in their own right playing in many of the great Scottish acts of the last decade. As the cottage fire crackled in Perthshire it was another "shire" to the north that shaped the identity of three other young musicians.
A one-legged crofter with a fondness for a good malt whisky was the inspiration for accordion player John Somerville. Musical gatherings in his parents house in the crofting hamlet of Abriachan, which lies high above the shores of Loch Ness, held the key to him taking up the instrument. With Angie Forregan in attendance a night of stories was always guaranteed but it was his accordion playing that John took to his heart deciding that the buttons, keys and bellows were for him. Born to a Czech mum and a Scottish father, it would always be difficult for him to completely hide his roots. Influenced by many styles of music, from West Highand Gaelic, to Eastern European, modern Funk to Techno, John developed his own unique style of accordion playing.
Adam Sutherland, was also raised on the shores of Loch Ness. From a small croft near the village of Errogie which sits above the loch's south shores, he would travel to the north side to be taught under the watchful eye of late Highland fiddle legend Donald Riddle. Three years were spent going between Donald's house in Clunes and his own amid a sea of half-made fiddles, playful kittens and a treasure of stories and tales. Described by Donald as a "promising" player Adam then went on to hone his skills with the world renowned Alasdair Fraser, embellishing his style and ornamentation. A bizarre combination of choral music and Led Zeppelin influenced his teenage years. Adam has been hailed as one of the pioneering Scottish fiddle players of this generation, always on the cutting edge, experimenting yet retaining the very source of his playing that lay in the traditions of his native Highland home.
Completing this trio of musical personalities is electric guitar player and Highland gentleman Barry "Spad" Reid. Growing up in Kilmorack, near Beauly, Barry started learning guitar from his father at the tender age 11. He would practise between his house and school being driven on by some of the contemporary guitar greats of that period. A rich and varied musical diet of Martyn Bennett, Miles Davis, Herbie Hancock, Goldie, Moving shadow, Mouth Music, Shooglenifty amongst others is responsible for Barry's style, fusing all these influences with a fine knowledge of his instrument.
So it is here that we leave the Inverness connection and travel, as the crow flies, 30 miles South to the quaint Highland village of Grantown on Spey, home turf to another of the band's members. We skip to Christmas nineteen eighty eight, with gleaming eyes and full of excitement, six year old Fraser Stone is under the brightly lit Christmas tree unwrapping the beginning of things to come. A plastic drum kit from his parents defined his musical heritage. Long hours and much energy were spent in his bedroom playing his humble collection of pots, pans and anything else he could find lying around. Eventually a fully-fledged kit replaced this, with Fraser constantly adding to his vast array of percussive instruments. He played along to bands such as Wolfstone, Shooglenifty, Santana, Hendrix, Guns n Roses and many of the Motown greats, hour upon hour spent developing his style, trying to emulate the feel of drummers such as Pete Erskine, John Bonham, Carter Beuford and Steve Gadd, the legends of that musical form.
From the West of Ireland, via Dublin, came a Banjo player by the name of Éamonn Coyne. An undeniably huge repertoire of session tunes and a unique deft plucking style were the hallmarks of a man that had travelled wide and earned his spurs playing with legendary purveyors of the instrument such as Béla Fleck and Alison Brown. But his first banjo influences stem from closer to home: a man from Co. Donegal in the North-West of Ireland and another from Birmingham (West Midlands, Englandshire!) via Galway and Mayo.
The Irish influence in the Orchestra was not just felt from the man whose origins lay in the Emerald Isle. Two other members of the band, who share the same surname – although both would decline any notion that they were anything other than musical brothers – also had roots in the West. Kevin O'Neill is an enigma of Glasgow, a man often found fronting sessions in all manner of venues across the city. His style, born of a fusion between Scottish and Irish playing is as fluid and meticulously controlled, as it is exhilarating to listen to. Born in the Royal Burgh of Rutherglen, Kevin is a true Glaswegian character, blending his fondness for the city's hidden depths with a cartoon-like outlook on life.
Martin O'Neill, a former All-Ireland and All-Britain Bodhrán champion is a character of a different persuasion. A much-lauded musician in both the Irish and Scottish traditions his rhythmical style bears the roots of both these scenes. A random phone call from an unexpected location one afternoon was all it took for Martin to become part of legend Stevie Wonder's band. Adding to a team of percussionists he toured with the band living and breathing life on the road with a true musical goliath.
The penultimate chapter of the story sees us shift to the Scottish heartland of Dunblane where a boy, fourteen years of age had just discovered a musical toy of a different kind. Duncan Lyall, TO's bassist, had found at the back of a music room cupboard a four track recorder. This dusty piece of equipment, unwanted and unused would provide an inspiration for the young Bassist. He began recording and experimenting with musical lines, adding slowly, layer by layer, concocting arrangements, fusing melodies, bass lines and rhythms and it was this experimentation and intrinsic understanding of musical structure that paved the way for his future. Duncan has now appeared on over fifty albums and has several production credits to his name.
The final chapter in the Origins story sees us travelling to the very depths of the country. Birgham, merely a stones-throw from the English border, was where Innes Watson grew up and it is this area and its strong musical heritage that he took much inspiration from. At the tender age of four his dad flung a guitar into his hands and Innes, with ease like it was merely an extension of his young frame, began to play. It was this natural ability and enthusiasm for music and life that would cultivate him from learning a few simple notes and chords all that time ago to recently being hailed "Instrumentalist of the Year" at 2011's Scots Trad Music Awards. Innes is one of many gifted young players that the flourishing Borders scene of the 1990's produced; itself a wonderful renaissance arising from a sense of pride in the local culture.
And so, they all converged in Glasgow making their way to the bright lights whether it be for study, work or play. Great bastions such as 1159 Argyll St, The North Lodge Hostel, 50 Berkley Street, 10 Cleveland St and 514 Renfrew Street, housed and provided a roof for many. Long nights of playing tunes, composing, and pouring over notes were had, including many impromptu performances in venues across the city. Scarcely a square meal was ever afforded or cooked yet rich in glorious music and culture these strongholds were. Musicians and their compatriots all surviving in some sort of distorted harmony, playing music, and enjoying the freedom that life at that time gave.
And so it was that eventually the idea of turning these origins – these personal journeys – in to one whole came, and at Celtic Connections 2009, the Treacherous Orchestra was born. The electrifying atmosphere of a first gig. The monster was raring, breathing, waiting to be unleashed. A titanic vessel was to break free from its moorings.
What happened next was…
Treacherous Orchestra website: http://www.treacherousorchestra.com
You can listen to Grind here.
Buy a ticket for the MG ALBA Scots Trad Music Awards on Saturday 5th December in Dundee Caird Hall, start time 7pm. You'll have a great time!