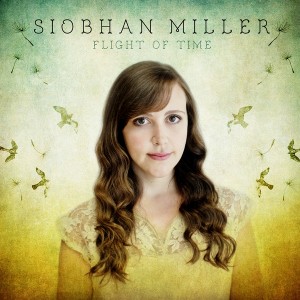 Congratulations to Siobhan Miller who's album Flight of Time has been nominated in Album of the Year (sponsored by Birnam CD) in the MG ALBA Scots Trad Music Awards 2015. Vote now!
We asked Siobhan Miller about their album Flight of Time.
Flight of Time was made over a period of two years, in collaboration with reputed singer-songwriter and Love and Money front man James Grant. Flight Of Time may seem far from the traditional songs which I have been singing and recording throughout my career. But these 10 contemporary songs are, for me, as compelling as any ancient tale. The song the January Man by Dave Goulder has been a favourite of mine for a long time as has Long Hello's and Short Goobyes by the late Davy Steele. I have wanted to record these songs but have never found the right musical setting to do so. I decided I wanted to create an album of of contemporary song which included these great songs by writers who have inspired me to write my own material. These songs gave me the starting point for the record.
I met James Grant whilst studying at the RCS in Glasgow where he gave lectures in song writing. James and I began co – writing which led to him producing the album. The initial arrangements for all the songs was guitar and vocals. We then began to add other instruments for texture and layering however we wanted to maintain the intimate sound we had created with the early arrangements something which I feel we achieved. It was a hugely exciting process for me to be working with instrumentation of this size having not used much in the way of drums and bass on other recordings of my music.
'Flight of Time' features some of Scotland's finest musicians such as Donald Shaw (Cappercaille) and Ewen Vernal (Decon Blue) Euan Burton, Ewan Macpherson, Lauren MacColl, James Mackintosh, Kirsteen Miller & Emily Smith as well as the powerful sound of the Prague Philharmonic Orchestra.
James was working with the orchestra at the time and we decided we wanted strings on three of the tracks on the album. Pete Whitfield wrote the parts which we wanted to be cinematic and striking. The strings for me add a strong platform for my voice and I loved singing with them once they were recorded. It was also very special that The Prague Phil were the string section used as the song 'No Butterflies' was written after visiting the Jewish quarter in Prague a couple of years previous and the song is based on poetry and art work by children held in Terezin concentration camp.
It was very important for me to record my voice in a way where the natural feeling was maintained. Having worked with Mattie Foulds at Heriot Toun studios previously I knew I could achieve this with him. The rest of the album was recorded in Cava studio, Gorbal Sound in Glasgow and my at my home studio.
This album marks an exciting new chapter in my career showcasing my song writing.
It was really inspiring to work with so many talented musicians and exciting to hear the songs develop with their individual input. James Grant played a very important role in pulling it all together and we had a lot of fun in the process. We worked hard to maintain a sense of my roots in traditional music in the singing of the songs and the instrumentation used in the arrangements.
About Siobhan MIller
Siobhan Miller is one of the foremost singers in Scotland. Already a two- time winner of the 'Scots Singer of the Year' award and a recipient of a 'BBC Young Folk Award' with Orkney's Jeana Leslie. She has a first class Honours degree in Scottish Music from the Royal Scottish Academy of Music and Drama, Glasgow.
Since graduating she has toured extensively throughout Britain, Europe and America
appearing at folk clubs, arts centres and festivals. Siobhan has collaborated with many of
Scotland's top musicians and was a co-founder of Scottish band Salt House, whose debut album 'Lay your Dark Low' received great acclaim.
Released in 2014, her stunning debut solo album 'Flight of Time' showcases her song writing talent and marks an exciting new chapter in her solo career. Siobhan and her band featured the material at Glasgow's Celtic Connections 2015. This marked the beginning of a busy summer performing at top festivals across the country including the 'Hebridean Celtic Festival', 'Underneath the Stars' and Towersey Festival.
Other collaborative projects include 'Steele the Show', a tribute to the songwriting of the late Davy Steele. TV appearances include BBC Alba's Scottish Songbook from Celtic Connections 2010, and BBC Scotland's Hogmanay Live 2011 New Year show, webcast worldwide, when Siobhan led 'Auld Lang Syne' at midnight. She has performed on Broadway, New York where she was resident singer in the Mabou Mines production of 'Peter and Wendy', with music composed by Johnny Cunningham, and in 2015 she was seen singing on the hit US TV show 'Outlander'.
Siobhan Miller website: http://www.siobhanmiller.com/
You can listen to Flight of Time here.
Buy a ticket for the MG ALBA Scots Trad Music Awards on Saturday 5th December in Dundee Caird Hall, start time 7pm. You'll have a great time!