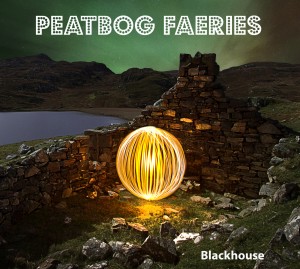 Congratulations to Peatbog Faeries who's album Blackhouse has been nominated in Album of the Year (sponsored by Birnam CD) in the MG ALBA Scots Trad Music Awards 2015. Vote now!
We asked Peatbog Faeries about their album Blackhouse.
It was recorded over 2-3 yrs in Kilchoan, Ardnarmurchan. The band hired a cottage brought in all the equipment and played live to form the core of the album. All under the guidance of regular producer Calum Maclean. All the melodies were provided by lead players Ross Couper and Peter Morrison. The final album was whittled down from around 20 tracks to the 10 on the album. Having no distractions(apart from the local pub) really allowed a greater cohesiveness to develop within the band which resulted in a work they are all proud of.
About Peatbog Faeries
The Peatbogs will be heading into their 25th yr in 2016 and still have their roots firmly based in Skye. "Blackhouse" is the 7th studio album from the band. They have won the "best live act" at the Trads twice and have been nominated for BBC radio 2 best live act award. Having played hundreds of festivals all over the world to fantastic response they're just back from Azerbaijan and will be heading out around the UK for an Autumn tour before touring in Mexico.
Peatbog Faeries website: http://www.peatbogfaeries.com
You can listen to Blackhouse here.
Buy a ticket for the MG ALBA Scots Trad Music Awards on Saturday 5th December in Dundee Caird Hall, start time 7pm. You'll have a great time!