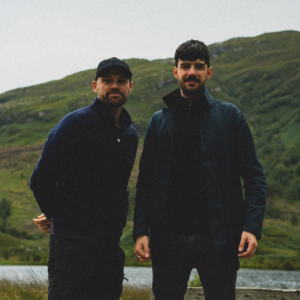 Congratulations to Valtos who has been nominated in Live Act of the Year sponsored by Gordon Duncan Memorial Trust in the MG ALBA Scots Trad Music Awards 2023. Vote for Valtos now!. It's going to be another great night at the MG ALBA Scots Trad Music Awards on Saturday 2nd December in Dundee's Caird Hall. Why not join us for a brilliant night of music and awards. Buy a ticket here.
We asked Martyn of Valtos the following questions.
Tell us about yourself
Valtos are a 'Scottish-Electronic' duo comprised of Isle of Skye natives Martyn MacDonald and Daniel Docherty, who embarked on their Journey after being inspired by fellow Skye bands the Peatbog Faeries and Niteworks at Skye Live, 2019.
Finding inspiration in both the traditional music and breath-taking beauty of their home, their debut Album 'Valtos' hosts a range of musicians synonymous with the Highlands and Islands, alongside the new generation of highland Talent. Old school friends Lana Pheutan and Eilidh Cormack provide Valtos with their breath-taking vocals (in English and Gaelic), accompanied by the gifted fiddler, Euan McLaughlin.
2023 has seen Valtos curate their next project 'Valtos & Friends', whereby they aim to work with as many of their favourite musicians form the trad scene as possible, ideally releasing a single every 4-6 weeks, which will ultimately culminate in a monumental Celtic Connections show in the largest SWG3 room, the Galvanisers, just 2 years on from playing the smallest SWG3 room, the Poetry Club.
Valtos tour as a full band including Eilidh, Euan, Lana, and Ali Levack. This brings a breadth of experience and energy to the Valtos live show which has resulted in numerous sold out shows across the country and ultimately resulted in the band winning 'Up and Coming Artist of the Year' at the Scots Trad Awards, 2022.
Why are you involved in Scottish music?
Traditional music has been a huge part of both the lives of Daniel and Martyn from a very young age but was something neither pursued (outside of the pipe band in Daniels case) until they came to the conclusion at Skye Live 2019 that they should take their passion for electronic music to the world of Scottish trad. Both are electronic producers at heart and wanted to try and combine this with the elements of trad, they both know and love so well, initially in an experimental way, but into something that ultimately turned out to be a roaring success. One of their favourite aspects of this is putting the talented musicians they are lucky enough to work with outside their own comfort zone, which has resulted in some very interesting and unique sounding recordings!
Any particular career highlights?
2023 has been a huge year for the band, ticking off many firsts; from selling out Summerhall in Edinburgh for the joint Valtos x Project Smok show, to touring abroad, and even visiting Shetland for the first time! However, an absolute career highlight for Valtos came in May 2023, when the full band played Skye Live for the first time, and the reception couldn't have been better. The tent was queued out the doors at 7pm for the set and it was an absolute dream come true for Daniel and Martyn, who conceptualised Valtos in the very same crowd previously.
What are your plans for the future?
More gigs, more music, more fun. Valtos are building up to a full Valtos & Friends show at Celtic Connections 2023, which is set to include everyone they have worked with across 2023 (and more), is set to be a career defining show. That aside, both Daniel and Martyn want to continue working with other artists across 2023 and will be looking to formulate their sophomore album in some form.
Valtos Social Media
Website: https://www.valtosband.co.uk/
Facebook: @valtosband
Twitter: @valtosband
Instagram: @valtosband
YouTube: @valtosband
TikTok: @valtosband
The 2023 MG ALBA Scots Trad Music Awards are on the 2nd December 2023! You will be able to watch it live in person (buy a ticket here),Watch it live in the UK at 9pm (GMT) on BBC ALBA and and around the world here. Bands performing on Saturday 2nd December include Peatbog Faeries, Mànran, Karine Polwart and Dave Milligan, Duncan Chisholm Band, Joy Dunlop Band, Aberdeen SC&T Youth and more!
If you would like to support Hands Up for Trad in their work with Scottish trad music and musicians why not become a friend of Hands Up for Trad. In addition to our high profile events like the Scots Trad Music Awards, we also deliver a less well known, education programme for young people from 8yrs right through to young adults at the start of their careers. Read more here.