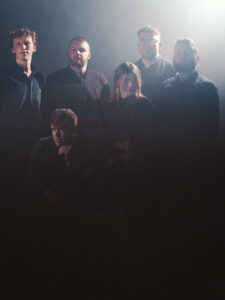 Congratulations to TRIP who has been nominated in Scottish Folk Band of the Year sponsored by Threads of Sound in the MG ALBA Scots Trad Music Awards 2023. Vote for TRIP now!. It's going to be another great night at the MG ALBA Scots Trad Music Awards on Saturday 2nd December in Dundee's Caird Hall. Why not join us for a brilliant night of music and awards. Buy a ticket here.
We asked Isla of TRIP the following questions.
Tell us about yourself
We are TRIP, a six-piece trad band based in Glasgow who bring together the musical traditions of Scotland, Ireland, Northumbria and the Isle of Man. Our music is all about celebrating our traditional roots whilst bringing our own contemporary flair to it.
Why are you involved in Scottish music?
We all moved to Glasgow from different places and it has become a musical home to us all. The Scottish traditional music scene is rich and thriving and being a part of it connects us to our own music and culture as well as an international community beyond Scotland.
Any particular career highlights?
A career highlight for us this year was Celtic Connections. We were involved in a collaboration with The Scottish Dance Theatre and an ensemble of fantastic Scottish musicians. A track from our debut album was used as part of the collaboration 'Moving Cloud', which was also featured in the 30th anniversary opening concert. It was totally surreal to play our music in the Royal Concert Hall accompanied by some of our favourite musicians and a dance company!
What are your plans for the future?
Plans are underway for a second album and we're working on some new music for that. It feels like we've really found a new sound with our new material and that's really exciting!
TRIP Social Media
Website: https://www.trip-music.com
Facebook: @TRIPceol
Twitter: @TRIPceol
Instagram: @TRIPceol
YouTube: @tripband5006
TikTok: @trip_tradband
The 2023 MG ALBA Scots Trad Music Awards are on the 2nd December 2023! You will be able to watch it live in person (buy a ticket here),Watch it live in the UK at 9pm (GMT) on BBC ALBA and and around the world here. Bands performing on Saturday 2nd December include Peatbog Faeries, Mànran, Karine Polwart and Dave Milligan, Duncan Chisholm Band, Joy Dunlop Band, Aberdeen SC&T Youth and more!
If you would like to support Hands Up for Trad in their work with Scottish trad music and musicians why not become a friend of Hands Up for Trad. In addition to our high profile events like the Scots Trad Music Awards, we also deliver a less well known, education programme for young people from 8yrs right through to young adults at the start of their careers. Read more here.