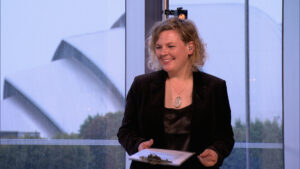 Congratulations to Travelling Folk on BBC Radio Scotland who has been nominated in Trad Music in the Media sponsored by Glasgow Caledonian University in the MG ALBA Scots Trad Music Awards 2023. Vote for Travelling Folk on BBC Radio Scotland now!. It's going to be another great night at the MG ALBA Scots Trad Music Awards on Saturday 2nd December in Dundee's Caird Hall. Why not join us for a brilliant night of music and awards. Buy a ticket here.
We asked Helen of Travelling Folk on BBC Radio Scotland the following questions.
Tell us about yourself
Travelling Folk is a weekly folk and roots show presented by Anna Massie and broadcast every Thursday evening on BBC Radio Scotland and on BBC Sounds. It features live music sessions, interviews, concert sets, features and music tracks from Scotland and beyond. We also broadcast every year from the Edinburgh Festival and Celtic Connections and have attended and covered various festivals including Rudolstadt, Lorient, Orkney and Shetland.
It is produced by Emma Gryczka and our researcher is Maud Start. Senior Producer is Helen Needham. Audio Engineer is Ron MacCaskill.
Why are you involved in Scottish music?
The Travelling Folk team is passionate about sharing Scottish music to the wider radio audience and nurturing new talent coming through to support and keep the tradition alive.
Any particular career highlights?
Recently we celebrated 100 Years of the BBC in Aberdeen – our broadcast base – which featured a wonderful night of music from the tradition of the North East of Scotland. Our audience shows from the Edinburgh Festival and Celtic Connections are always a highlight. We also visited Donegal this year and made a special programme highlighting the musical and cultural connections between this region and Scotland.
What are your plans for the future?
We look forward to recording a session with current BBC Radio Scotland Young Traditional Musician of the Year Amy Laurenson. Plus our Celtic Connections coverage.
Travelling Folk on BBC Radio Scotland Social Media
Website: https://www.bbc.co.uk/programmes/b00tlyrt
Facebook: BBC Radio Scotland
Twitter: @BBCRadioScot
Instagram: @bbcradioscot
YouTube: @
TikTok: @
The 2023 MG ALBA Scots Trad Music Awards are on the 2nd December 2023! You will be able to watch it live in person (buy a ticket here),Watch it live in the UK at 9pm (GMT) on BBC ALBA and and around the world here. Bands performing on Saturday 2nd December include Peatbog Faeries, Mànran, Karine Polwart and Dave Milligan, Duncan Chisholm Band, Joy Dunlop Band, Aberdeen SC&T Youth and more!
If you would like to support Hands Up for Trad in their work with Scottish trad music and musicians why not become a friend of Hands Up for Trad. In addition to our high profile events like the Scots Trad Music Awards, we also deliver a less well known, education programme for young people from 8yrs right through to young adults at the start of their careers. Read more here.