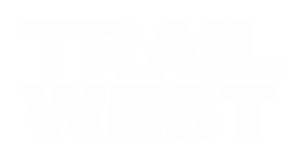 Congratulations to Trail West who has been nominated in Live Act of the Year sponsored by Gordon Duncan Memorial Trust in the MG ALBA Scots Trad Music Awards 2023. Vote for Trail West now!. It's going to be another great night at the MG ALBA Scots Trad Music Awards on Saturday 2nd December in Dundee's Caird Hall. Why not join us for a brilliant night of music and awards. Buy a ticket here.
We asked Ian of Trail West the following questions.
Tell us about yourself
An explosive six-piece line-up with strong links to the Western Highlands and Islands, Trail West are a band who continue to rise in popularity from their modest roots as a four-piece West Coast Ceilidh Band to a formidable Live Act worthy of any festival stage.


Alain Campbell: Guitar/ Whistles
Allan Nairn: Electric Guitar
Andrew Findlater/ Drums
Ian Smith: Accordion
Jonathan Gillespie: Keyboard
Seonaidh MacIntyre: Whistles/ Pipes/ Vocals & Guitar
Why are you involved in Scottish music?
Trail West were formed in 2008 as a West Coast Ceilidh band, playing mainly on the Isles of Tiree and Coll but with occasional jaunts to the mainland and to other islands. Having seen other bands with Tiree connections – such as Gunna Sound, Skipinnish and Skerryvore – doing well in the traditional music scene, this gave us the confidence to pursue our hopes of performing throughout the country. The following year, the band's original lineup decided to arrange a Summer Tour of the Highlands and Islands and from there, Trail West's popularity rose.
There was a reshuffle of members around 2010 and this is when Alain Campbell and Seonaidh MacIntyre joined the band. Along with founding members, Andrew Findlater and Ian Smith, they decided that they would pursue a career in music with more commitment and the band have continued to go from strength to strength from that moment on.
All of our members, past and present, owe it to our tutors; to Fèisean nan Gaidheal and – for the members from Tiree – to the island's other musicians who paved the way for us to follow in their footsteps.
Any particular career highlights?
Our career highlight to date is, without a doubt, three successive years of sell-out shows at the 1900-capacity Barrowland Ballroom in Glasgow, the first of which was a celebration of Ten Years of Trail West.
What are your plans for the future?
We're very much looking forward to our remaining shows of the year, which include the Strathpeffer Pavilion, Hoolie in the Hydro, Talla an Iochdair and Broadford Hall for Hogmanay, before we kick off 2024 in the Nevis Centre in Fort William.
We plan on doing some work in the studio at the beginning of 2024 and hope to release some new material in the very near future. We'll also be visiting some new venues in the year ahead alongside some of our favourites – watch this space!
Trail West Social Media
Website: http://www.trail-west.com
Facebook: @trailwestband
Twitter: @trailwestband
Instagram: @trailwestband
YouTube: @trailwest
TikTok: @trailwestband
The 2023 MG ALBA Scots Trad Music Awards are on the 2nd December 2023! You will be able to watch it live in person (buy a ticket here),Watch it live in the UK at 9pm (GMT) on BBC ALBA and and around the world here. Bands performing on Saturday 2nd December include Peatbog Faeries, Mànran, Karine Polwart and Dave Milligan, Duncan Chisholm Band, Joy Dunlop Band, Aberdeen SC&T Youth and more!
If you would like to support Hands Up for Trad in their work with Scottish trad music and musicians why not become a friend of Hands Up for Trad. In addition to our high profile events like the Scots Trad Music Awards, we also deliver a less well known, education programme for young people from 8yrs right through to young adults at the start of their careers. Read more here.