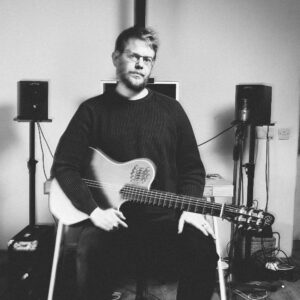 Congratulations to Tom Oakes – The Hearth who has been nominated in Original Work of the Year sponsored Musicians' Union in the MG ALBA Scots Trad Music Awards 2023. Vote for Tom Oakes – The Hearth now!. It's going to be another great night at the MG ALBA Scots Trad Music Awards on Saturday 2nd December in Dundee's Caird Hall. Why not join us for a brilliant night of music and awards. Buy a ticket here.
We asked Tom of Tom Oakes – The Hearth the following questions.
Tell us about yourself
I'm a Flute and Whistle player, Guitarist and Greek Bouzouki tickler as well as a Composer, Producer and Sound Designer. I've been composing since I was a child. Arguably before I even really played any instruments and over the decades I've built up quite a body of 'miscellaneous' bits of music. I've also been working increasingly more in the world of theatre as a sound designer and made my performing debut (theatre) in a collaborative piece with Brite Theater called 'Can this be.. Home' made around the time of the Brexit referendum. It was all about the necessity of freedom of movement for a musician and the futility of the whole thing.
With 'The Hearth' I've worked again with Brite Theater to try and bring all of these random strands of my musical/performance life together to celebrate some awesome people as well as to build a coherent piece out of some pieces of music that don't fit anywhere else. I produced page after page of 'stream of conciousness' ramblings which Kolbrun Sigfusdottir turned into beautiful poems. These were then read by the legendary super woman that is Dolina Maclennan and incorporated as sound design into the piece. The whole show was performed live with all of the sound design mapped to different foot controllers which were triggered in real time for the show. it was a mammoth and deeply. personal thing which I had no idea about in terms of wether it was actually any good not! It is therefore deeply humbling to be shortlisted for a trad award and I'm incredibly thankful to all those that came along to the show, offered encouragement and deemed the piece worthy of nomination.
Why are you involved in Scottish music?
I've lived in Edinburgh now longer than I've lived in any place in my life. I still find this city and this country amazes and inspires me on a daily basis and the same for the incredible music scenes that constantly intersect each other here. This piece tries to tie various facets of my life together and through doing so has made me all the more aware that my lifes journey has brought me to the right place. A part of this show is about my first watching Martin Bennet and Shooglenifty as an awkward spotty 14yr old at Sidmouth Folk Festival. Teenage me would have been delighted to be benefitting from their incredible legacy and living in this beautiful country.
Any particular career highlights?
Lots! Australian and Norwegian tours with Ross Couper have always been incredible. Getting to work on Blair Douglas' Gaelic Mass only a few weeks after moving to Scotland was life changing. My first Distil residential! Making an entirely DIY solo album form concept to recording, mixing and release and most recently finishing a mammoth 15 date solo run at Edinburgh Fringe with 'The Hearth'
What are your plans for the future?
Well I've the return of my mini festival 'Winter Trad', Touring 'The Hearth' as a solo show. Recording a version of it that is either audiobook or album or both. New projects with Ali Hutton and Matt Tighe. The Oakes // Bews // Thorpe album finally coming out and looking towards new material and recording with the mighty Ross Couper. Also really looking forward to further building my label 'Window Weather' and getting it to a point where I can release music for other people as well as myself.
Tom Oakes – The Hearth Social Media
Website: http://www.tomoakesmusic.com/projects/thehearth
Facebook: @tomoakesmusic
Twitter: @tomoakes
Instagram: @tomoakesmusic
YouTube: @tomoakesmusic
TikTok: @
The 2023 MG ALBA Scots Trad Music Awards are on the 2nd December 2023! You will be able to watch it live in person (buy a ticket here),Watch it live in the UK at 9pm (GMT) on BBC ALBA and and around the world here. Bands performing on Saturday 2nd December include Peatbog Faeries, Mànran, Karine Polwart and Dave Milligan, Duncan Chisholm Band, Joy Dunlop Band, Aberdeen SC&T Youth and more!
If you would like to support Hands Up for Trad in their work with Scottish trad music and musicians why not become a friend of Hands Up for Trad. In addition to our high profile events like the Scots Trad Music Awards, we also deliver a less well known, education programme for young people from 8yrs right through to young adults at the start of their careers. Read more here.