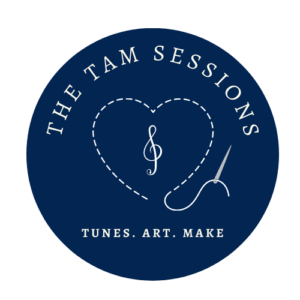 Congratulations to THE TAM SESSIONS who has been nominated in Community Project of the Year sponsored by Traditional Arts and Culture Scotland in the MG ALBA Scots Trad Music Awards 2023. Vote for THE TAM SESSIONS now!. It's going to be another great night at the MG ALBA Scots Trad Music Awards on Saturday 2nd December in Dundee's Caird Hall. Why not join us for a brilliant night of music and awards. Buy a ticket here.
We asked CLAIRE of THE TAM SESSIONS the following questions.
Tell us about yourself
The driving factor behind The TAM sessions (Tunes, Art, Make) is joy and looking after your well being. The sessions combine an open & informal trad music session with art and crafting to bring a joyful experience which has a direct, positive impact on our mental health. Community building through creative arts creates connections & a sense of belonging.
Kirstie McLanachan (based in Edinburgh) and Claire Gullan (based in Glasgow) are both trad musicians, music educators & crafters who active within the community.
Why are you involved in Scottish music?
Playing traditional music creates community and keeps the traditional tunes alive, giving us a tangible connection to our heritage. Plus we REALLY enjoy playing the tunes!
Any particular career highlights?
Hearing and seeing how the sessions have personally impacted people has definitely brought us JOY! In the short time we have been running (since April 2023), we have had wonderful feedback such as:
"I went twice and can't wait for the next session! Mixing music and craft is such an amazing idea. So many talented and kind people helping and supporting each other is truly inspiring! Honestly my favourite event in Edinburgh ❤"
"Claire and Kirstie are wonderfully supportive and everyone is friendly and welcoming. Good tunes and a really interesting range of crafts to chat about. Well worth the journey"
"Terrific idea to mix music and sang wi makin things knittit, stitchit, paintit…; sharin & chattin"
What are your plans for the future?
We are seeking funding in order for us to bring the TAM sessions to other areas of Scotland & beyond, to spread the music and making joy! We would like to run a series of of sessions where we work collaboratively on a project and can exhibit our work for a meaningful experience.
THE TAM SESSIONS Social Media
Website: https://www.facebook.com/TAMsesh
Facebook: @tamSESH
Twitter: @
Instagram: @thetamsessions
YouTube: @
TikTok: @
The 2023 MG ALBA Scots Trad Music Awards are on the 2nd December 2023! You will be able to watch it live in person (buy a ticket here),Watch it live in the UK at 9pm (GMT) on BBC ALBA and and around the world here. Bands performing on Saturday 2nd December include Peatbog Faeries, Mànran, Karine Polwart and Dave Milligan, Duncan Chisholm Band, Joy Dunlop Band, Aberdeen SC&T Youth and more!
If you would like to support Hands Up for Trad in their work with Scottish trad music and musicians why not become a friend of Hands Up for Trad. In addition to our high profile events like the Scots Trad Music Awards, we also deliver a less well known, education programme for young people from 8yrs right through to young adults at the start of their careers. Read more here.